For many of us, connections through work, family relationships, and community contacts fuse together to create central meaning in our lives. Casual friendships, professional connections, and decades-old relationships became that much more meaningful over the past few years as we suddenly became even more aware of their profound value and how quickly they can disappear. While hugs and handshakes were on hold, we had time to evaluate what means the most in our lives.
Then there are those steadfast souls who always knew. Rob Barker, President of First Business Bank's Kansas City Metro Market since mid-2016, has never had a doubt: his family is everything. That's not to say his coworkers and community relationships aren't important, but if you speak with Rob for more than a few minutes, it quickly becomes clear what drives his inclusive leadership style, his community service, and his determination to help others.
"Rob is uncommonly empathetic," said Brendan Freeman, President of Private Wealth for First Business Bank. "And I know his family has everything to do with that – his wife and kids transcend everything and it really benefits Rob in his role as a leader and mentor. It's because his team knows that Rob cares so much that they continue to achieve so much for our clients in Kansas and Missouri."
Jo Ellen McClintick, Office Manager, has worked with Rob for the past five years and says Rob is as genuine as they come. "For me, as an employee, trust and loyalty are very important," she said. "With Rob there is no question."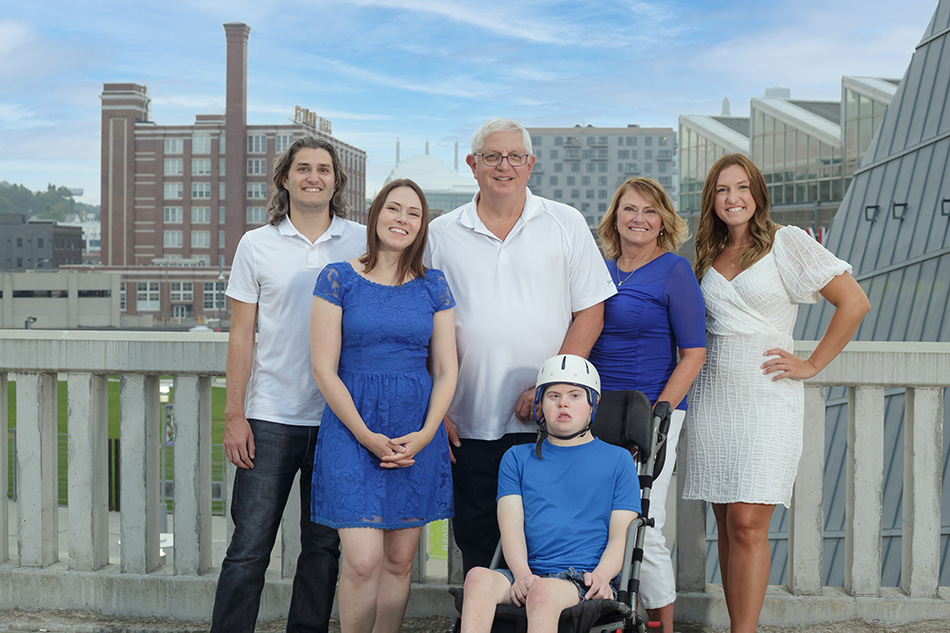 Rob's family story, which they are still writing every day, is unique not only for its struggles but for the profoundly strong bond they've developed and the lasting impact that bond has on the people they associate with every day.
Then There Were Three
When Rob met his wife Julie 35 years ago, they worked together at the same large, regional bank. They didn't always work at the same location and it was fairly simple to separate their work lives from their personal lives. It came especially easy to them when their focus as a couple was immediately about caring for and building a family.
"When Julie and I started dating, we were both divorced, and she had a two-year-old daughter, Jennifer, from her previous marriage," Rob said. "We didn't have the traditional dating relationship; we had a two-year-old. We had a family already. Family brought us together; kids were always important to us."
From the early days, the couple worked hard to put the needs of their oldest daughter above all else. "We have a great relationship with her dad and her step-mom," Rob said. "Even today, on Christmas Eve, we sit in the same row at church with them because we never wanted either one of us to have to give up those moments because of a divorce," he said. "We put our kids first and we try and make sure we always take that family piece of it and make that more important."
Growing up in Kansas, Rob Barker lived in a multi-generational household that prized close relationships with extended family members. "We were really close and family was important to us," he said. "When I was growing up, my mom's mom lived with us. So I think that was always a factor why family is so important. My parents stressed it."
When Rob and Julie married, with five-year-old Jennifer (now age 32), they didn't have to wait long to grow their family. "We both wanted more children," Rob said. "I can always remember what anniversary year it is for us because we got married and literally 10 months later we had Michael. We knew we wanted more kids and we didn't want to wait too long to have them."
From Four To Six
After Michael, now 28, was born, the couple wanted another child, but unfortunately experienced miscarriages and infertility for a few years.
"We had a couple of problems, but all of a sudden Julie was pregnant again," Rob said. "One of the tests came back with abnormal results. They told us that the test results can be skewed if you are carrying multiple fetuses. So, we went in and Julie was beside herself because this number on this test was high. So I'm telling her everything's OK, and trying to be supportive," he said. "The technician sits down and two seconds later, she says, 'You're having twins.'"
The couple experienced a range of emotions, from relief, to elation, to worry. "For us, it was a relief in some ways because you go from — 'Hey, there's a potential problem' to 'Oh my gosh! What does that mean?'" Rob said. "My first concerns were financial, which is the banker in me. We need a bigger house. That's double the diapers. A new stroller. Instantly the financial part of it hit me."
Delivery Complications
Throughout the pregnancy, testing did not reveal any other potential issues. The family wasn't aware the arrival of twins, (now 23-year-old Katherine (Katie) and Matthew) would present life-defining challenges for their family that would strengthen their connection, determine a career path, and bring the value of each day even more into focus.
The twins' delivery was a whirlwind of activity as Katie was healthy at birth, but it became immediately clear that Matthew had trouble breathing. Born with Down Syndrome, Matthew also had complications that sometimes come along with it, including holes in his heart and pulmonary hypertension that immediately put his life in danger.
"He basically wasn't getting oxygen when he was born," Rob said. "We instantly went from, 'Hey, we're going in to have two babies,' to everything turning upside down where they're whisking him away to the pediatric high-risk hospital here in Kansas City — Children's Mercy Hospital. You don't know where you are or what's happened. It was just a total shock."
A New Chapter
At the direction of hospital staff, Rob and his mother-in-law arrived at Children's Mercy Hospital a few hours after Matthew's arrival there. They met with the doctor who revealed Matthew's Down Syndrome diagnosis, explained that Matthew wasn't getting enough oxygen, and that they were trying to determine the extent and nature of his heart defects.
"The doctor said they had six or seven things that progressively get more invasive to improve his oxygen and keep him alive," Rob said. "He said, 'We're at step one. We have a lot of steps until we get to step seven, and that's the last thing we can do, but that will take some time.' So, I left the hospital thinking, 'We have a son with Down Syndrome.' I knew a little bit, but not really what that meant. And the doctor said they have a lot of 6 ENLIGHTEN JANUARY 2022 7 options to improve his condition."
However, early the next morning, Rob's phone rang. "I get a phone call from Children's Mercy from the doctor in the neonatal intensive care," he said. "He said, 'Rob, we're at step seven. We've tried all these things and they've been unsuccessful. We're at the Hail Mary here with a treatment called ECMO. It's a heart-lung bypass.'"
ECMO (extracorporeal membrane oxygenation) machines oxygenate blood outside the body, allowing the heart and lungs to rest and heal. Rob was told that Matthew could be on the ECMO machine for seven days, but beyond that, there were no other options. The family happened to be in one of three cities in the United States where hospitals had pediatric ECMO machines at the time.
"I'm getting this call at home," Rob said. "I've had four hours of sleep in the last 48 hours. And I've got to go to the hospital and tell Julie, 'I told you we were at step one. We're now at this point.' And I remember — I get emotional now thinking about it — driving to the hospital in tears."
When he got to the hospital and told his wife, Rob said she immediately wanted to see Matthew. "She said, 'I don't care — I'm out of here.' So the doctor said she could go for three or four hours if she went in a wheelchair because they weren't ready to release her from the hospital yet."
The couple waited as the Children's Mercy surgical team performed a procedure that took several hours. "They were stopping his heart and breathing and turning it over to a machine," Rob said. "They told us there was a lot of risk. He was in a separate room for infection control. When we went in, we just saw his blood going in and out of this machine. The day that Matthew was put on ECMO, the child in the room with him passed away. So, that possibility was very real — right there in the room."
That's when the clock started, so to speak. The medical team told the couple they were optimistic, but his heart function wasn't normal because of the congenital birth defects they would have to wait to repair. After several days, they began weaning Matthew off ECMO, which was successful in allowing his pulmonary hypertension to heal.
However, Matthew still faced multiple surgeries, including open heart surgery. "We spent the next year back and forth at Children's Mercy," Rob said. "Really that big turning moment for our family was when Matthew was born," he said. "It changed our family dynamic quite a bit. For the first few of years of his life, we didn't know if he was going to live. And we spent a lot of time at Children's Mercy Hospital in Kansas City, in and out of the hospital with him."
Children's Mercy Hospital
A large part of the family's life has been Children's Mercy Hospital, where Rob said he began to think about client service differently. "I can't say enough good things about Children's Mercy," he said. "I'd be sitting there at two o'clock in the morning in the ICU with Matthew; I'm dead tired, struggling with another life-and-death situation. And the housekeeping person comes in, and they're trying to mop the floor and I tell them I'll move. And they say, 'No, you sit there. For us, mopping the floor is not an issue.' That made an impact on me in how I look at employees, client service, and everything else.
"The people we met at Children's Mercy went above and beyond," he said. "It would have been impossible for us to take our kids to Disney because Matthew needs round-the-clock care and a lot of medicines. We couldn't just call grandma and grandpa. But we had become friends with a nurse, Carla, we met in the ICU when Matthew was on ECMO and she told us, 'I'll take a week off work and come stay with Matthew so you guys can go take your kids on vacation.'"
In another hospital stay, Rob credits Carla with saving Matthew's life when he was about two years old. "He was stable at Children's Mercy after a procedure, but Carla saw that his temperature went up by two tenths of a degree and thought he just didn't seem right," Rob said. "She asked the doctor to start intravenous antibiotics. They told us he had a staph infection, and the early antibiotics likely saved him."
Intentional Family Dynamic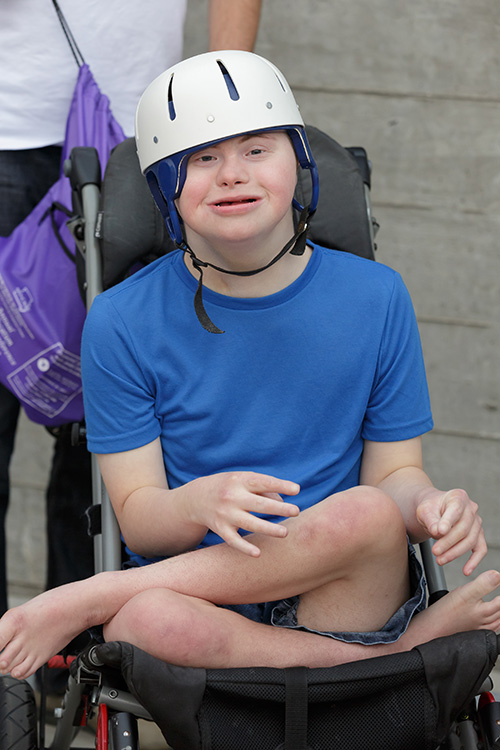 Settling into family life with a 10 year old, a five year old, and twin babies, Rob said he and Julie began to decide how to make changes so their other children's needs weren't swamped by Matthew's.
"I became the hospital person with Matthew, and Julie, who had been very focused on her career in banking, decided to stay home," Rob said. "We couldn't just say, 'Hey, you other three kids, we don't have time for you.' It really changed our lives because Julie was very much a career person, but when Matthew came along, we just knew that our lives were changed forever."
Along with Down Syndrome, now 23-year-old Matthew has an autism diagnosis and other health challenges, so he is tube-fed and is non-verbal. The family decided to make their house more attractive for teenagers and entertaining, so it would be easier to include Matthew in their lives and provide him a full experience.
"Julie and I decided we had to make our house accessible and the place to be so our other kids, our family, our friends can come to our house, and we can entertain and have a life," Rob said. "So we put an addition on our house, and we built a pool so that our kids' friends and our friends would want to come to our house. We wanted to include Matthew, but not eliminate the rest of the family dynamic."
Community Support
The family is grateful of tremendous support along the way from teachers and others who also influenced all of their children. "As Matthew started school within the Blue Springs Missouri School District, we got to know his teachers really well," Rob said. "We've tried at least once a year to go to the lake with our other kids to focus on them. And one of his teachers stays with Matthew so we can have a long weekend to do that."
Matthew also participates in daily life with the family. "We never have hidden or been ashamed of who Matthew is and we take him a lot of places," Rob said. "We're always amazed when we go out in public. We'll be in Costco at Christmastime, and we're strolling down the aisles with Matthew in tow, and people will yell down the aisle, 'Matthew!' They'll come up and say, 'Oh, I'm the janitor at his school.' Or, 'We work at the bowling alley where the kids from the school district come and bowl. And so, we know Matthew.'
"These are people who we never would have had in our lives without Matthew, and we learn things from them," Rob said. "This whole world opens up to us, and it has changed our lives. And we hopefully have changed other people's lives. We never hide Matthew in his room — he's in the middle of our house. All our kids' friends come in, and Matthew will give them high fives. They're not afraid to interact because they're used to Matthew. We love it because we've exposed these kids to somebody with special needs. We aren't ashamed or afraid. We pretty much are an open book with everybody."
In fact, Matthew's twin sister, Katie, became a special education teacher after being impacted by Matthew and his teachers. "There's a bond between them, as twins," Rob said. "Even though Matthew doesn't communicate verbally, there is still a bond."
Estate Planning
As Rob and Julie updated their will and estate plans, they discussed Matthew's care in the event something happened to them. Michael, 28, their oldest son, immediately stepped in. "Our oldest son is not married, and he jumps in and says, 'He's coming with me.' We pointed out that if Michael gets married, his partner might not feel the same way. And he said, 'If she doesn't get that, she doesn't get me.' That's family."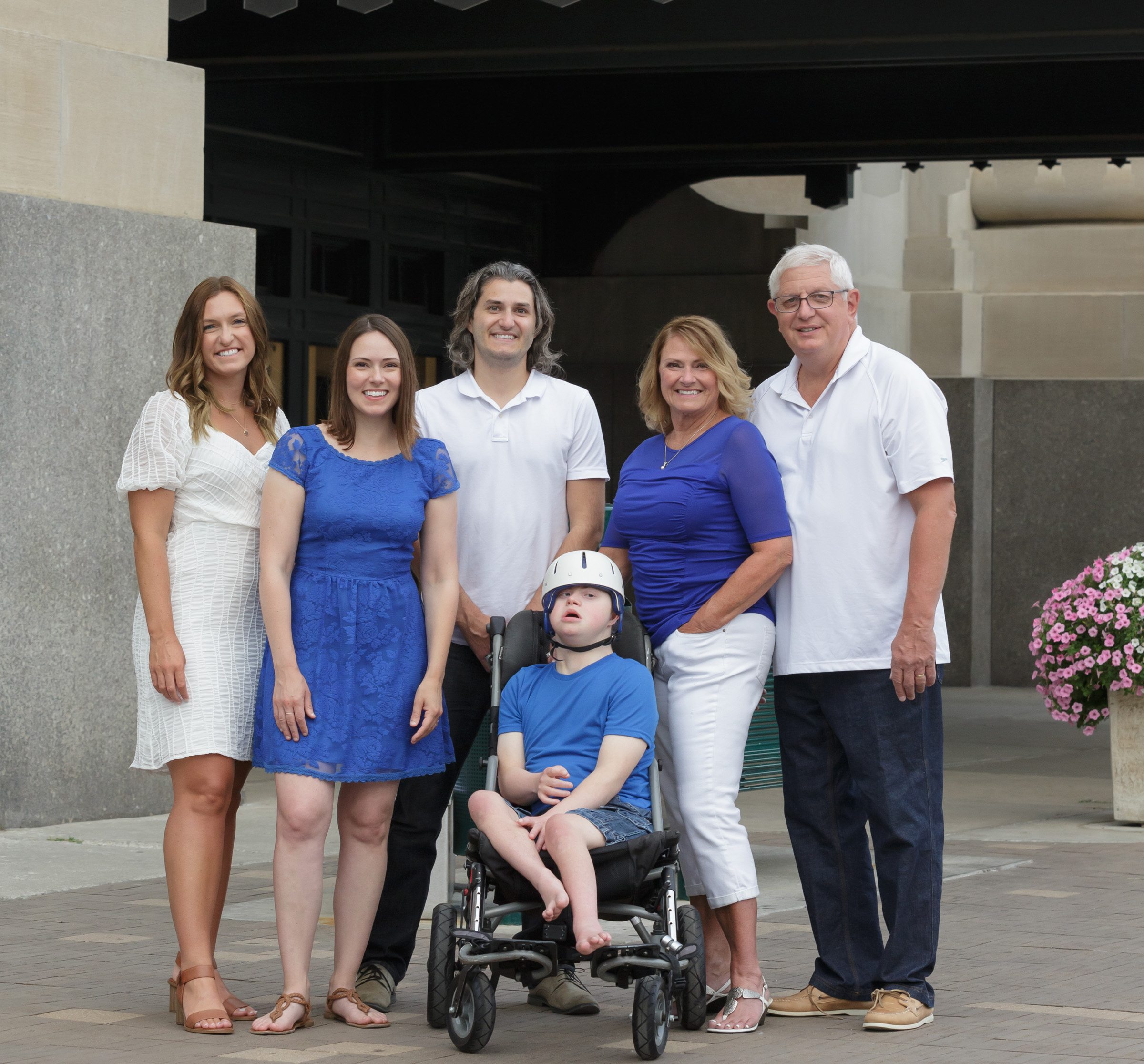 Initially, Rob said he and Julie tried to save as much as possible for Matthew's care after they're gone. However, an attorney who focuses on special needs trusts changed their strategy. "They told us to leave money to our other kids because Michael qualifies for other programs," Rob said. "They said, 'Your family dynamic is great and if you leave money to the other kids, Matthew will never want for something because the kids will make sure that he's taken care of if you and Julie are gone.'"
If Rob was giving advice to someone facing the same path, he said he would tell them to seek help from state disability programs earlier than his family did. Today, he looks back on his pride in his earlier years and sees that some of these programs would have helped his family years ago.
"Enjoy Every Single Day"
Facing multiple life-and-death situations with Matthew caused the family to focus on what's important every single day. For many years, Rob says he wrestled with how long Matthew would live, but when he was eight or nine, a physician friend had a memorable conversation with Rob. "Finally, one of the doctors at Children's Mercy and I sat down," he said. "We had become friends with him. He said, 'Rob, look, we've got to have this conversation. You keep asking this question. If you took all the doctors you interacted with at Children's Mercy in the first two years of Matthew's life, I would gather that most of them would have said the chances of Matthew seeing his second birthday were probably less than 25%.'
"He told me, 'This is something you need to really take from me and I can give back to you,'" Rob said. "'You should look at it as you're on borrowed time. You've got way more than we thought you'd ever get. Enjoy every single day because I can't tell you that tomorrow those air sacs at the end of Matthew's lungs aren't going to clamp back down. Something like that could happen. You just need to say every day is a gift.' And so that's what we do."