When I transitioned to working remotely for First Business Bank in May of 2018, I was one of only a few employees working outside of an office. I moved from Wisconsin to Colorado and, while I had been working in an office environment for nearly 15 years, I figured that working from home would be a seamless adjustment. After all, work is work, right?
Well, I was wrong about that. Three years, a pandemic, and another move later, I have a few insights that might help others connecting with teams from afar.
Going from being the only person on my team working from home to suddenly one of many, two distinct positives emerged. First, it leveled the playing field as everyone got the chance to try on the remote work life. When a company trusts you to work from home, it's a boost of confidence and an opportunity to shine. I have seen the Loan Operations group truly come together as a team whether they live in Kansas, Wisconsin, or Oregon!
The second observation is that it's easier to identify resource needs to improve efficiency. Let me explain: Pre-COVID-19, if a team member had a question, they could ask the person next to them, or someone down the hall. Physically separated, it became a lot harder to ask your neighbor and questions and resulting holes in our policies and procedures gained visibility. This new transparency has helped me identify where we need stronger documented resources so my team can find answers without waiting on a reply to an email or a phone call. This insight helps me to create tools that can make each person more successful in their role.
Over the past three years, I like to think I'm always learning how to be the best contributor to my team, regardless of where I'm working. These are a few of the most impactful tips I can offer from my work-from-home life learnings.
2. Be Curious and Proactive about IT
When you work from home, you can't just walk over to the IT department with your laptop that is acting wonky, or with your phone that isn't accessing Outlook. It is easy to ask for help with these things while you're in the office.
The first few months of working from home, I was still in the mindset of IT taking the lead on all my technology. Then one day I came home from a lunch hour run and my docking station had stopped working. I was about to open a Help Desk ticket, but then I paused. Could I figure this out myself?
After unplugging and reconnecting all the wires, it worked! It was a small win, but I felt empowered!
Next came the printer. I hesitated to even take it out of the box due to its size and assumed it would be complicated. It wasn't!
I also had internet challenges, particularly on windy days. My virtual meetings would be choppy at best which, of course, made it hard to get the information I needed or deliver the information I needed to contribute. After some troubleshooting, I learned that on windy days I should just use my cell phone for a hotspot and it worked better!
I still contact IT for things that are more complicated, but it gave me confidence to know I can figure some of the low hanging fruit out myself.
2. Get fresh air!
When I set up my first home office, I wanted discipline. I didn't want the distraction of the scenery outside, so I set up my desk facing a blank wall in the corner of my dining room. I needed to align my intention and surroundings for optimal concentration! Right?
I smile when thinking about my attempt to isolate myself in a bubble, immune to the call of the Rocky Mountains. Eventually, 18 months later, I learned this wasn't very helpful.
What happened that finally changed my outlook? My senior manager asked me to work on a project unlike any other I have worked on. As I tried to strong arm my way through thinking creatively, I kept getting stuck. The creative juices refused to flow.
Finally, I decided to try something really different. A park about 20 minutes away had a beautiful shelter on an overlook with a great view of the mountains. I decided to work there for a day and see what happened. And guess what — I had a breakthrough! That was my most enjoyable, and definitely one of my most productive, days of creative thinking I have ever had. The fresh air and change in scenery helped me to think differently, which is a benefit of working remotely. You can work from places other than your desk and you can get fresh air — both healthy things you often can't get in the office. These can really get your brain firing in a new way!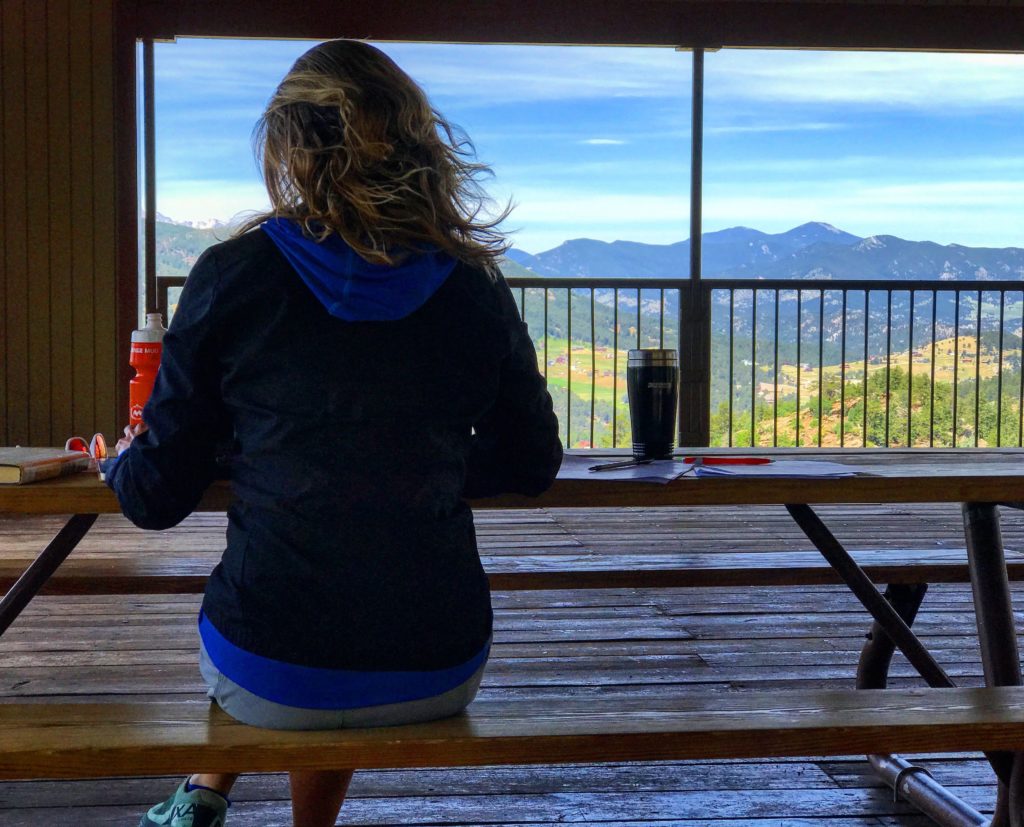 3. Personalize your space.
Early in my banking career in a traditional office, I wanted my workspace to smell nice. I thought that maybe an oil diffuser or even a plug-in scented device would work. As I spoke about this with a co-worker, my supervisor overheard us and said it wasn't allowed. Some people are sensitive to smell, and I understood the reasoning for not allowing scents at work.
As I mentioned earlier, when I started working from home I initially made my workspace as similar to my old office space as possible, including no nice-smelling goodness. A few months later, something reminded me of that plug-in I had talked about years earlier. I nearly slapped my own forehead when I realized: this is my workspace now and I can set it up however I like! That night I went shopping and came home fully prepared for a great-smelling workspace.
When we work from home, we can set up our environments for personal success. Smelling nice things is soothing to me and makes me happy! I also worked in silence for the first year before it dawned on me that having some sort of music in the background would be nice. I didn't do that in the office, but now I was the only person who would hear it. Now, whenever I want to, I listen to whatever music I want to in the background. It gives my day an entirely new vibe.
4. Develop Healthy Habits
We've all experienced it – a tray of cookies in the breakroom, a potluck for a department celebration, and sugary soda calling from the breakroom at 3pm. My personal downfall in the office was cookies. I could not summon the will power to say no to a cookie. After all, it's just one cookie, right? Right.
After a few months working from home, I realized how nice it was not to be tempted by the food around the office. I felt better, had more consistent energy, and naturally made better choices because I chose the food that was around me.
We can create our own personal environments at home, and we can use this to our advantage! Knowing that we won't be tempted by another cookie exchange or birthday cake means that we can set ourselves up for success to build healthier habits.
5. Make the Most of Distance
Since I moved, I've had to learn ways to help me prioritize relationships with my coworkers. Conversations with them become more important when there is physical distance between you, so write the important things down. Does an employee have a birthday coming up? Write it on your calendar and call them. Is your coworker's child graduating from high school? Write it down and send a congratulations e-mail or card. When you don't have the opportunity to physically run into someone in passing, you need to be a lot more intentional. Paying attention to the details and having a system to remember them is a sure-fire way to maintain meaningful connection across the miles.
Adapting to remote work was a process for me, and honestly, it still is. Most recently, I set out a yoga mat in my office that is always there so it's easy to take a quick stretch or down dog between tasks. It was been fun seeing more of my co-workers navigate remote work for the first time, although now some are returning slowly to their offices. I think finding out what makes you productive and happy while working outside of the office can only increase your productivity and happiness when you're in the office. (Those cookies!)