Asset-Based Lending Solutions
First Business Bank is a leading provider of Asset-Based Lending solutions to businesses with sales from $10,000,000 to $100,000,000+ and refinancing requests up to $18,000,000.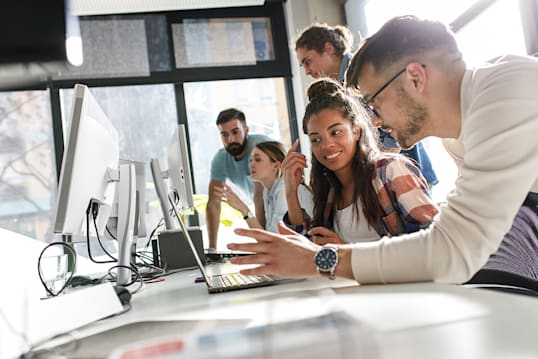 Helping You Meet Your Business Needs
Our Asset-Based Lending team has a reputation in the marketplace for being a consistent, responsive, and flexible problem solver, focusing our underwriting on the collateral provided and recent business performance. We need to understand the past, however, our financing is structured to recognize recent performance and meet future business requirements.
Experience. The Advantage.
As a bank-owned Asset-Based Lender, we provide traditional Asset-Based Lending underwriting fortitude, while positioned to deliver cost-effective financing solutions to companies in transition. This focus and commitment provides clients these benefits:
A Personal Approach
We take time to understand clients' businesses and industries. This personalized approach to lending allows us to provide loan structures that are tailored to each client, which streamlines our credit approval process. You can count on us to propose what we can deliver and deliver what we propose.
Typical Advance Rates
Up to 85% on Accounts Receivable
Up to 60% on Investory
Up to 90% on the FLV of Equipment
Up to 80% of the FMV of Real Estate
Pricing
Competitive Interest Rates
Reasonable Closing Fees
Efficient Documentation
Industry Expertise
Our lending professionals have expertise in many different industries, which is shown by the diversity of our client base. First Business Bank has provided ABL financing for a variety of companies, including, but not limited to:
Apparel - Manufacturing & Distribution
Automotive & Truck Parts
Building Materials - Supplies & Distribution
Business Services
Catalog & Mail Order
Commercial Floor Coverings - Retail & Wholesale
Concrete - Products & Contractors
Consumer Products Distribution
Dairy Products - Manufacturing & Wholesale Distribution
Displays, Cabinets, & Fixtures Manufacturing
Electrical Power Distribution Equipment Manufacturing
Equipment Manufacturing & Parts Supply
Fabricated Metal Products
Fastener Distribution
Food Products - Manufacturing & Distribution
Foundries
Furniture Manufacturing
High Tech Manufacturing
HVAC Equipment - Wholesale Distribution
Lighting Fixtures - Importing, Distribution & Manufacturing
Metal Plating & Stamping
Metal Powder Coating
Metals Service Center
Packaging Materials Distribution & Fabrication
Paper & Cardboard Products - Distribution & Conversion
Petroleum/Lubricant Distribution
Plastic Injection Molding
Printing
Rubber Fabrication
School Supplies - Manufacturing & Wholesale Distribution
Scrap Metals
Specialty Yarn Manufacturing
Telemarketing Services
Temporary Staffing Agencies
Trucking
Asset-Based Lending | Reference Guide
Client Profile
Manufacturers, Distributors, Wholesalers, Processors, and Business Service Companies with:
Senior Debt Requirements of $2,000,000 to $18,000,000
Sales of $10,000,000 to $100,000,000+
Sufficient, Understandable, and Manageable Collateral
Financial Characteristics
High Financial Leverage/Deficit Net Worth
Inconsistent Earnings History
Positive Recent Earning Trends
Reasons For Seeking Asset-Based Lending
Turnaround Financing
Current Lending Relationship Fatigued/Distressed
Out of Court Debt Restructure
Experiencing Rapid Growth
Mergers and Acquisitions
Revolving Facilities
Pricing - Competitive Interest Rates
Advance Rate on Accounts Receivable - Up to 85%
Advance Rate on Inventory - Up to 60%
Term of Commitment - 2 to 4 Years
Equipment Loan Facilities
Advance Rate up to 90% of appraised Forced Liquidation Value
Amortization of up to 72 Months
Term of Commitment - 2 to 4 years
Real Estate Facilities
Advance Rate up to 80% of appraised Fair Market Value
Up to a 20-year Amortization
Term of Commitment - 2 to 4 Years
Pre-Proposal Information
Current & Prior Year Comparable Interim Financial Statements
Last Three Individual Monthly Financial Statements
Prior Four Years of Fiscal Year-End Financial Statements
Monthly Projections (Income Statement & Balance Sheet)
Accounts Receivable & Payable Agings (same date as F/S)
Inventory Reports Summarizing Composition & Locations
Most Recent Borrowing Base Certificate from Current Lender
Product Brochures; Business Plan; Industry Analysis
Shareholder Composition; Management/Owner Bios
Personal Financial Statements of Principal Shareholders
M&E Appraisal (if applicable)
Real Estate Appraisal & Phase One (if applicable)