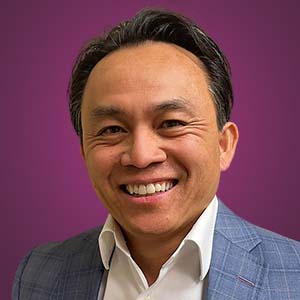 MADISON, WI – March 28, 2023 – First Business Bank is pleased to welcome Jerry Huynh as Managing Director - SBA Lending.
With nearly 30 years of experience in helping businesses accomplish their goals through commercial and SBA Lending, Jerry Huynh (pronounced "Win") brings extensive knowledge and significant expertise to First Business Bank's relationship-focused SBA Lending team. Jerry's career is built on collaborating with business leaders to understand their businesses, strategies, and key objectives. His previous experience includes working at the U.S. Small Business Administration for several years, which helps him guide his colleagues and clients to long-term success through SBA Lending solutions.
An SBA-designated Preferred Lending Partner, First Business Bank's Top 100 SBA Lending team provides efficient access for businesses to several SBA loan programs, including 7(a) loans, 504 loans, USDA Business & Industry, and the International Trade Loan program. The team specializes in businesses with less than $25 million in revenue and bring significant experience in franchise acquisition, e-commerce-based businesses, professional services, healthcare delivery, self-storage, owner-occupied real estate purchases, and more.
About First Business Bank
First Business Bank specializes in Business Banking, including Commercial Banking and Specialty Finance, Private Wealth, and Bank Consulting services, and through its refined focus delivers unmatched expertise, accessibility, and responsiveness. Specialty Finance solutions are delivered through First Business Bank's wholly owned subsidiary First Business Specialty Finance, LLC. First Business Bank is a wholly owned subsidiary of First Business Financial Services, Inc. (Nasdaq: FBIZ). For additional information, visit firstbusiness.bank.