Managing My Health & Security
Make sure your individual future security and retirement health care needs are arranged and in place.
Protect Your Health and Security for the Long-Term
Address expected needs and unexpected scenarios for your security and health care now and in the future with the right financial planning tools.
Manage Your Plan With Expert Advisors
Leave the worry to us. We'll work with you to understand your needs and protect your health and security with thoughtful Financial Planning — for today and tomorrow.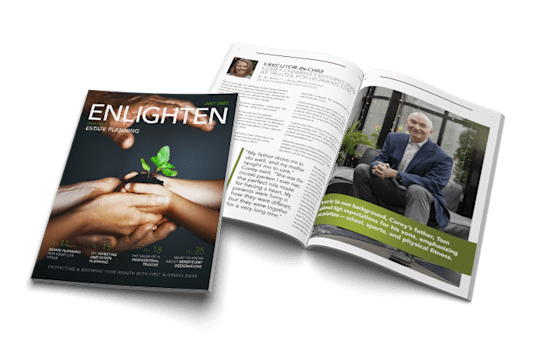 Read Enlighten For Insightful, Expert Guidance
Enlighten is a semi-annual magazine from First Business Bank's Private Wealth team. In this issue, we discuss important issues surrounding Estate Planning, such as handling unique assets, planning for incapacity, and what to know about beneficiary designations.
Get Insights to Better Manage Your Financial Plan
Access our latest podcasts, articles, and reports about fraud prevention, retirement, financial planning, and more.