The unsettling news of bank failures and potential loss of uninsured bank deposits led many business leaders and investors to wonder how to insure their deposits beyond the $250,000 automatically covered by the Federal Deposit Insurance Corporation (FDIC). Some even spread their deposits across several financial institutions, not realizing there are solutions to provide extended insurance coverage to ease the hassle of opening more accounts and tracking funds across banks.
In a volatile economy, ensuring the safety of your bank deposits, both personal and business, is more important than ever. Fortunately, solutions such as Extended Coverage Sweep and Certificate of Deposit Account Registry Service (CDARS) both work to protect your assets above $250,000.
This article explains how these solutions work to help you understand how to protect your business and personal deposits.
What Is FDIC & Deposit Insurance?
Before we get into extra deposit insurance and how it works, I'd like to add some important background information about the FDIC.
Is the FDIC a governmental agency? No. The FDIC was established as part of the Banking Act of 1933 signed by President Franklin D. Roosevelt. Although it was initiated by the U.S. Congress in response to bank failures in the 1920s and 1930s, the FDIC isn't government funded. Its funds come from banks and other financial institutions that pay for deposit insurance.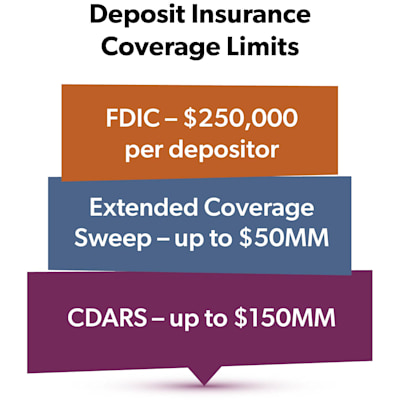 What does FDIC insurance cover? FDIC insurance covers up to $250,000 per depositor per institution. That means you are automatically insured up to $250,000, regardless of the number of accounts you have with one bank. If you have deposits in two accounts at the same bank, your FDIC coverage is $250,000, for instance. FDIC insures only deposits held in checking and saving accounts, money market deposit accounts, certificates of deposit (CDs), cashier's checks, and money orders. It does not insure mutual funds, stock investments, bonds, or any other type of asset.
What else does the FDIC do? FDIC employs bank examiners who review banks of all sizes to ensure they're complying with rules and regulations that govern the banking industry. They help protect the public's interest in the U.S. banking system to improve and maintain confidence in the stability of them.
Insuring Bank Deposits With Extended Coverage Sweep
While your inclination might be to open accounts at multiple banks across your metropolitan area to spread out your deposits, this is a time-consuming hassle and a record-keeping nuisance. Thankfully Extended Coverage Sweep provides up to $50 million in FDIC protection through one account without any extra work or gas mileage on your part.
Extended Coverage Sweep is a fully automated cash management account, offered by First Business Bank, designed to provide millions of dollars in FDIC protection for businesses, individuals, nonprofits, and municipalities.
Extended Coverage Sweep offers several key benefits:
Protection: With the Extended Coverage Sweep, you can receive millions of dollars in FDIC protection through a single account, providing several times more insurance than traditional deposit accounts. This increased protection ensures the safety of your funds even in uncertain times.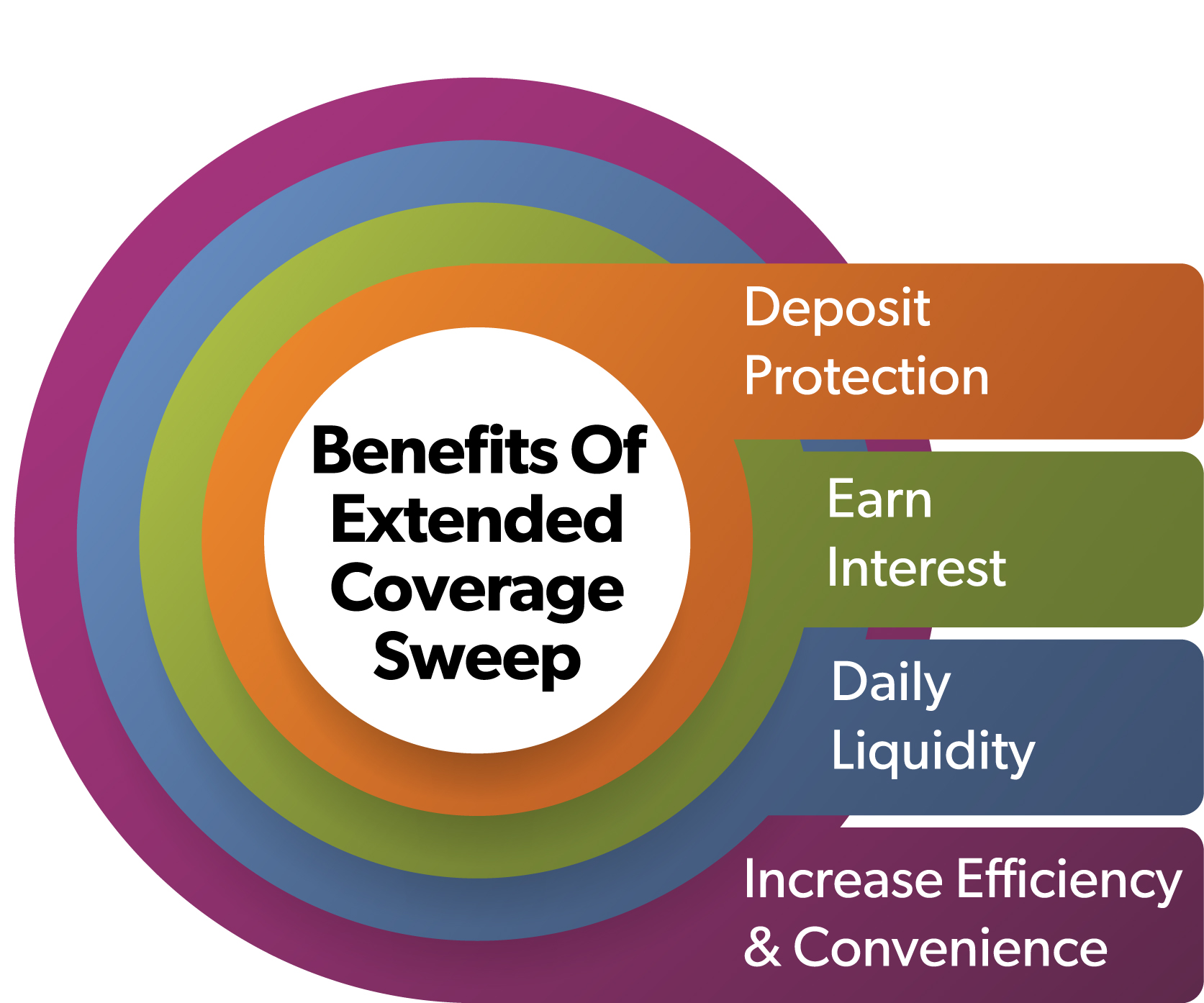 Growth: All account types, including business, nonprofit, and public funds, earn a competitive interest rate, allowing your money to work for you and generate growth. This interest is earned regardless of account type, ensuring that your funds are constantly working to enhance your financial position.
Access: Extended Coverage Sweep allows you to access your funds daily. This feature ensures liquidity and the ability to manage your cash flow effectively, meeting your personal needs or the daily needs of your organization without any restrictions.
Convenience: By consolidating multiple bank relationships into a single account, the Extended Coverage Sweep offers convenience and efficiency. This eliminates the hassle of managing multiple accounts, reducing paperwork and the need to coordinate multiple monthly statements and confirmations.
Extended Coverage Sweep caters to the needs of different client account types:
Individuals: Through a single account, individuals can receive millions of dollars in FDIC insurance to protect various financial goals, such as retirement, college savings, or vacation funds. Joint accounts receive double the current expanded FDIC insurance limit, providing additional protection for shared assets.
Business: Businesses can benefit from expanded levels of FDIC insurance while earning interest through the Extended Coverage Sweep. This fully automated cash management solution eliminates the need to transfer money between accounts to meet daily liabilities and accounts payable needs, streamlining financial operations.
Public Funds: Managing public funds can be labor-intensive and time-consuming. The Extended Coverage Sweep offers a fully automated cash management account that ensures your funds are readily available when needed. It also provides high levels of insurance coverage to meet the investment policy requirements mandated by the state.
Insuring Bank Deposits with CDARS
In addition to Extended Coverage Sweep, another option to maximize FDIC insurance is the CDARS® Network service provided by First Business Bank. The CDARS Network allows access of up to $150 million in FDIC insurance while earning CD-level returns. It offers the convenience of working with a single institution and puts your funds to work in the local community.
When you protect your deposits through CDARS, we place funds at other FDIC-insured institutions in increments below the $250,000 maximum for you, so both the principal and interest are eligible for full coverage. You select a CD maturity date and have the option to direct interest proceeds to your account or payable to you. As it is set up, you receive confirmation of your CDs. You'll receive ongoing statements showing balances, interest, and other important details associated with your CD deposit accounts.
Protecting your deposits is crucial, and by utilizing options like the Extended Coverage Sweep and CDARS, you can enhance the safety and growth potential of your personal and business funds. Ensure peace of mind and financial strength with these innovative cash management solutions.
5/31/2023