A Key Component Of The First Business Bank Story

Like many milestones in life, retirement is often difficult to picture until you achieve it. Running a marathon, raising a child, buying a house, adopting a pet — the reality of these experiences all differ from our original expectations. And even when you have a concrete plan, waking up on your very first day of retirement can look completely unlike what you ever expected.
One thing is for sure — while your retirement might not look like anyone else's, Baby Boomers retiring are in good company. For the next two decades, an estimated 10,000 Americans turn 65 every day1. In fact, the U.S. Census Bureau estimates that in 2034, people over age 65 will outnumber those under age 182.
On average, Americans live about 20 years after retiring. What they do in those years ranges the gamut of life experiences — from starting entirely new careers, to traveling, to raising grandchildren, and more. For a real-life look at retirement and the origin story behind First Business Bank, we turned to Jerry Smith, founder of First Business Bank, and his wife Donna.
Retiring in 2018 from the First Business Financial Services, Inc., Board of Directors, Jerry recounts his motivations behind starting First Business Bank 30 years ago, his humble upbringing, life with Donna and his family, career path, and his gratitude for all the people who helped in the success of First Business Bank. Along the way, he provides some tips for retirement well-planned and well-lived.
Early Life
As a young child growing up the small town of Freedom, Wis., halfway between Appleton and Green Bay, Smith's life was forever altered by one event. His father, an entrepreneur who started a sand and gravel business, was paralyzed after he was hit by a train.
"The most pivotal point in my life was my dad's accident," he says. "I was six when I answered the door. The policeman asked for my mother and I heard him say, 'There has been a terrible accident.'" From then on, Jerry's aunts, uncles, and his community helped to raise him. He credits his love of the outdoors (hunting, fishing, camping, hiking) to this time in his life, leading to a lifetime of involvement and support of the Leopold Foundation and other environmental organizations. Despite his father becoming a quadriplegic, Smith says his upbringing in small town Wisconsin was wonderful. Reflecting on that time now in retirement, he says his family and their many friends in the community rallied around him. His father was often back in the hospital or recovering and Jerry spent time living with relatives on their farms.
"I think one of the reasons I like helping people is because of our family's situation," he says. "In our little town, they all kind of took care of me, which was a good thing because I needed a little guidance."
"There were a lot of people looking out for me but it was a wonderful childhood. I was very fortunate because it could have been much different than that. The expression, 'It takes a village to raise a child,' fits my childhood perfectly."
With the entrepreneurship example set by his family — his maternal and paternal relatives all were self-employed in farming, construction, and other industries — Smith set his sights early on starting a business. At 12 years old with a paper route, Jerry Smith started a newspaper when he bought a small printing press. Although it didn't get off to the start he envisioned, the venture gave Smith his first experience with creating a business. "I've always been an entrepreneur," he says. He did sell a few ads, but when the newspaper didn't get off the ground, thankfully the advertisers didn't ask for their money back.
Even in his small rural town, it was possible for teenagers to find work, so when he wanted to buy a car in high school, he milked cows before and after school for a local cattle dealer. "It was interesting because it was a revolving door for cows and I never knew anything about the cows," Smith says. "I ended up getting kicked a lot for approaching them on the wrong side. They are fussy."
Jerry and Donna grew up at opposite ends of the same small town, but their paths crossed as young adults when she was dating his best friend. "It was a small town," Donna says. "He lived on one end, and I lived on the other end. And that was about three blocks apart, not quite, but it was really little." Celebrating 55 years of marriage this fall, Jerry and Donna began dating after Jerry returned from the Army. "Before I was in the Army, and we would double date because she was dating my best friend, and I was dating someone else. While I was gone to Fort Leonard Wood, they broke up and my friend started dating my girlfriend. So Donna and I started writing to each other. When I came home in May, we started dating and it all happened real fast. We got married that October because I knew I was going to be transferred somewhere else."
Finance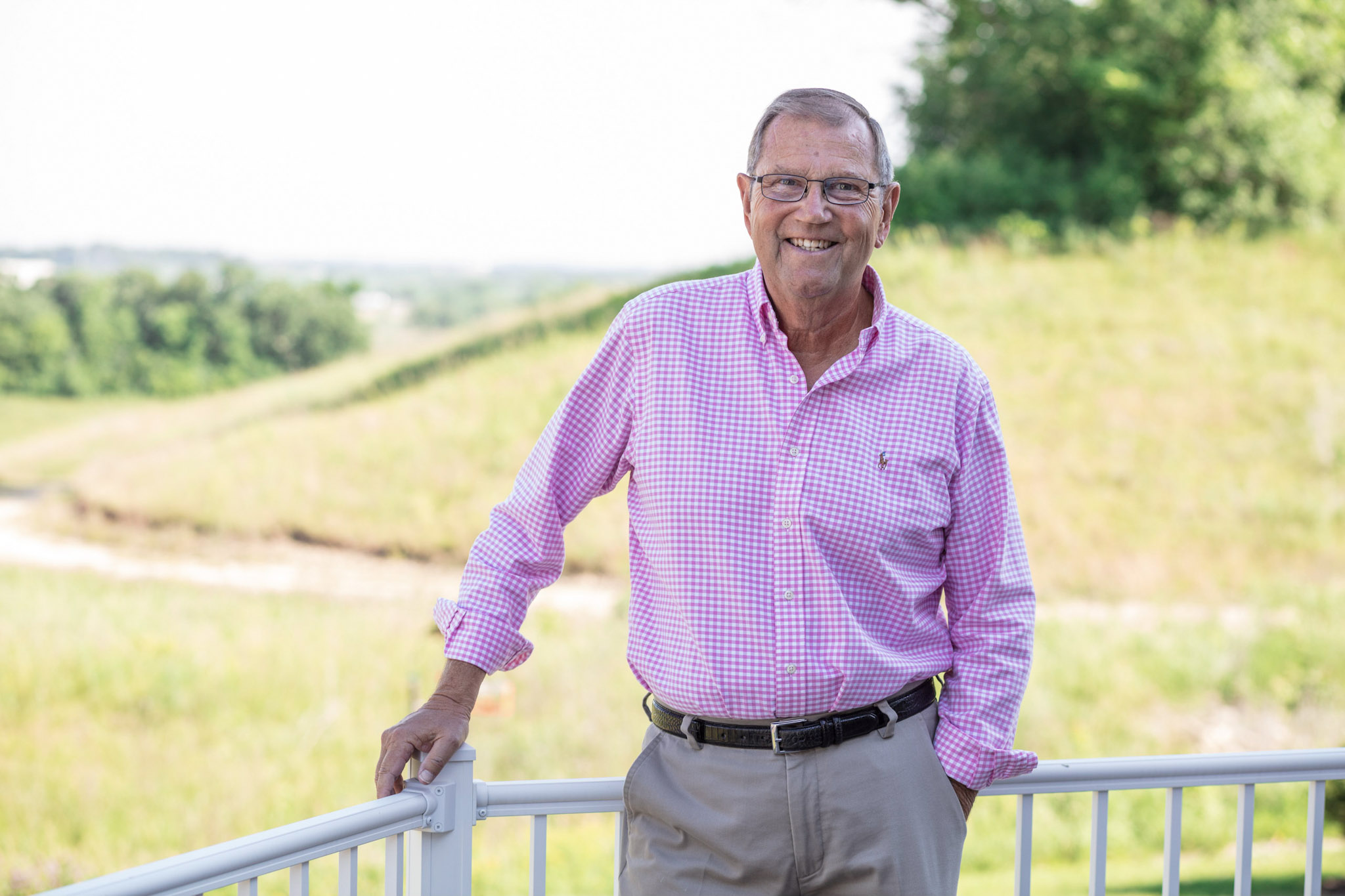 A self-described impatient person who does not enjoy administrative tasks, Smith also didn't like college. "It was kind of restrictive and I'm impatient, but I love people. I surrounded myself with people who are good at the other things," he says.
In early adulthood, his mother, who didn't like the physical risks of the sand and gravel business, found his first opportunity in finance — an open position at Thorp Finance. It turned out to be a turning point, aiming his career toward banking and finance. Although looking back at it now, Smith says he might have been better suited for another industry.
"One of the great mysteries is how I ever went into the field considering I'm not really an indoor person at all," he says. "I went and interviewed with them, and to my shock they immediately offered me a job. I advanced and ended up at another finance company and became a manager. My boss went to work for a bank and I took his job, so I became a manager at age 21, the youngest age they would allow someone to be a manager."
After four years with Thorp Finance, his former manager recruited him to work at First National Bank of Appleton in 1967. It was at this bank as a substitute branch manager one day in 1968 when Smith survived a robbery, held at gunpoint. Thankfully he was unharmed and the robber was captured in South Dakota.
Two years later, Jerry Smith pursued an opportunity in commercial lending, which led to enrolling in the Graduate School of Banking at the University of Wisconsin – Madison, during the antiwar riots. "It was an interesting time period," Smith says. There he met several Madison-area bankers, one of whom recruited Jerry and Donna to move to Madison for a position as Vice President of the new Affiliated Bank of Jamestown on Verona Road in Madison. After several years there, he was recruited to become the CEO of Metropolitan National Bank in Monona. After five years, the bank was sold to a larger Milwaukee bank and Jerry started getting itchy feet again.
The Entrepreneur
Although he had his sights set on becoming a bank president, after several years of working at banks and for bank-holding companies, he wanted something different.
With Donna's ok, he gave up a nice benefits package and decided to go for it — creating Jerry Smith and Associates in 1984. Smith says, "At the time, we had three kids in Catholic school and Donna was at home. She went to work for the State of Wisconsin so we could have health insurance. I told her I would do it for one year, and if I wasn't making it in a year, I would get a job with a salary and benefits."
Initially, Jerry Smith and Associates did not have any employees, and Smith says Donna and their children pitched in quite often. "They stuffed envelopes for market surveys and crunched data on our old Compaq computer," Smith says. "We would spread things out on the floor in our family room. It was a huge help. It also gave them a sense of what it is like to start a business, including the rewards and the stresses."
Now, the Smith entrepreneurship legacy continues with their children, who have multiple college degrees and their own businesses. "Our oldest son has a successful taxidermy business in Waunakee," Smith says. "Our daughter has a part-time furniture restoration business and our youngest son started his own professional cooking business and serves as a personal chef in Colorado."
After a year, Donna became a school secretary with two kids in middle school and one in elementary school. For nine years, she grew close to the Queen of Peace School family and still maintains those connections despite retiring nearly two decades ago.
Jerry Smith and Associates provided bank director training, strategic planning, asset/liability management, and budgeting for banks. Mary Murphy, Smith's assistant from Metropolitan Bank, became the office manager. Smith formed alliances with a nationwide software company to utilize their software and provide nationwide conferences. From 1984 through 1989, Jerry Smith and Associates conducted director seminars for State Banking, S&L, and Credit Union Associations, which resulted in gaining clients from California to New York. During this time, Smith facilitated or spoke at conferences throughout the United States from West Point to California. With five employees, the company also formed a service bureau to conduct simulation forecasting and market research.
"Unfortunately, it was too successful — I was going all the time," Smith says. "And it was really getting hard with the family. I think that last fall I was gone 14 weekends in a row." After learning about and visiting a business bank in Kansas City, Jerry, with assistance from Professor Bob Cramer of UW-Madison, had the idea for a business-focused bank. He created and refined a business plan during that time, working with John Klus, PhD, PE, to polish his business plan. An engineering professor, Klus was also involved in the entrepreneurship studies program at UW-Madison. They had previously served on a board through UW-Madison funding start-up companies. Smith says Klus emphasized differentiation in all things, leading to offering a courier service to pick up deposits from businesses, a first in the Madison market.
"That was so ingrained in him from his entrepreneurial studies and he wouldn't let up on me," Smith says. "Sometimes I could have just throttled him because, I thought, 'I have this perfect,' and he made me look at things through a different lens. And he was right."
First Business Bank
In 1987, Kingston-Dalton State Bank wanted to hire Jerry Smith to be bank president, but Jerry and his business partners, Don Brown and Ken Urso, ended up purchasing the bank instead. Chartered in 1909, Kingston-Dalton State Bank had $10.5 million in assets at the time. He and Ken went to Chicago and met with the Federal Reserve Bank. They told him that if they approved the application, the bank would have to inject $1.5 million minimum of additional capital. No small task at the time. They formed First Business Bank in 1990 and transferred the charter from Kingston to Madison. The bank conducted a stock offering to raise an additional $3 million to capitalize it as a business bank, and Jerry became the CEO of First Business Bank, ending his consulting career.
When word got out that they were starting the bank, two investors came forward immediately. The first was the retired Supervisor of the Madison FDIC office, which Smith says was a treasured vote of confidence for the bank. The other investor was Sam Jacobson, who founded the PDQ stores (now Kwik Trip) and Bishops Bay. "Sam wanted to buy all the shares and provide banking through PDQ stores," Smith says. "While I was very fond of him, I did not want to work for one individual, so I politely told him he could buy 25%. Sam was a brilliant man and tough, but he accepted the proposal. I learned so much from Sam. He treated me very well and I learned to have enormous respect for him. Donna and I played the inaugural round at Bishops Bay with Sam and Nancy Jacobson. With those two investors it suddenly became bit easier to attract investment capital."
Jerry turned to people he respected to fill roles on the board. "The stakes were high, and I didn't want to trust people that I didn't know at all, initially," he said. "I tried to surround myself with people I knew, several whom I'd worked with previously."
"Arguably one of the most rewarding things were all the people who played such a big role. I get a little choked up even thinking about it, but they really are. There's just so many people. It wasn't me — I was the front person, but I had a lot of help. And a lot of those people are still in my life, which is nice."
While they made it look easy at the time, Smith said raising money was demanding. "There were many days when I had three lunches in the same day, going from investor to investor," Smith says. "I could not have done it alone. After I met with each prospective investor, Gary Fossum and Mary Murphy, both of whom I worked with at Metropolitan Bank, would follow up and collect the necessary securities paperwork. Gary is still at First Business Bank and Mary is happily retired," he says.
During this time, he also credits Rich Fleuchtling, who worked with him at Affiliated Banks and at Jerry Smith and Associates, as organizing CFO. "He and Mary organized the bank while I focused on raising money and public relations," Smith says.
Introducing the concept of a business bank in the community was a hurdle, Smith says. "One of the biggest challenges at the time was explaining to people, 'What is a business bank, anyway?' Our newspaper ads at the time said, 'What is a business bank?' It was really effective."
In 2005, First Business Financial Services, Inc., bank-holding company of First Business Bank went public and a small group of executives were invited to ring the closing bell at the Nasdaq. "It was a great time," Smith says. "It was wonderful. I enjoyed it a lot. So many people felt really good about it. The bank had a big party and they had a big TV broadcasting it because it was on TV. Initially, I didn't want to go to New York, but Jim Ropella our CFO was frustrated with me and insisted, 'Jerry, this is a big deal.' He was right and I consider it a highlight of my career. We were on the jumbotron on Times Square. Pretty heady stuff for a farm boy from Freedom," he says.
Another experience that Smith says stands alone was when Craig Culver, founder of Culver's, nominated him for Entrepreneur of the Year. "We took first place in Wisconsin and Donna and I were invited to the national competition and gala dinner on Navy Pier in Chicago as finalist," he says. "We finished in the top five. It was very special."
While First Business Financial Services, Inc., is recognized annually as one of Wisconsin's public companies with at least three women directors, Jerry Smith points out that women were running the show at First Business Bank from day one.
"Jane Coleman, who ran Madison Community Foundation, was a board member and so was Jan Eddy, from the day we opened the doors," Jerry says. "And Mary Murphy was COO, for all practical purposes. Theresa Wiese came right away, and then Jodi Chandler was here from the early days. Penny Byrne, who I knew from when I was on Dane County Development board, would go along to meet with loan prospects. I would tell them, 'Okay, now Penny will take care of everything for you.' I trusted her and I'd move on to the next prospect. I surrounded myself with the best people I knew could get the job done."
Of course, Donna made it all possible."This woman was the best thing that ever happened to me," he says. "It's true. She's earned that."
Legacy
Both Donna and Jerry Smith say it's important for others to take a chance and do things to benefit other people. "Too many people hold themselves back," Jerry says. "A lot of these things, we couldn't do it any easier than anybody else could, but we did them anyway. And for me, I think a lot of it was always driven off of my dad. My dad owned his own business; all our family are entrepreneurs."
"He was always a big proponent of small businesses," Donna says. "I think the world itself would be a better place if everybody would do that and not say, 'Well, what am I going to get out of this?' and instead think about benefiting other people."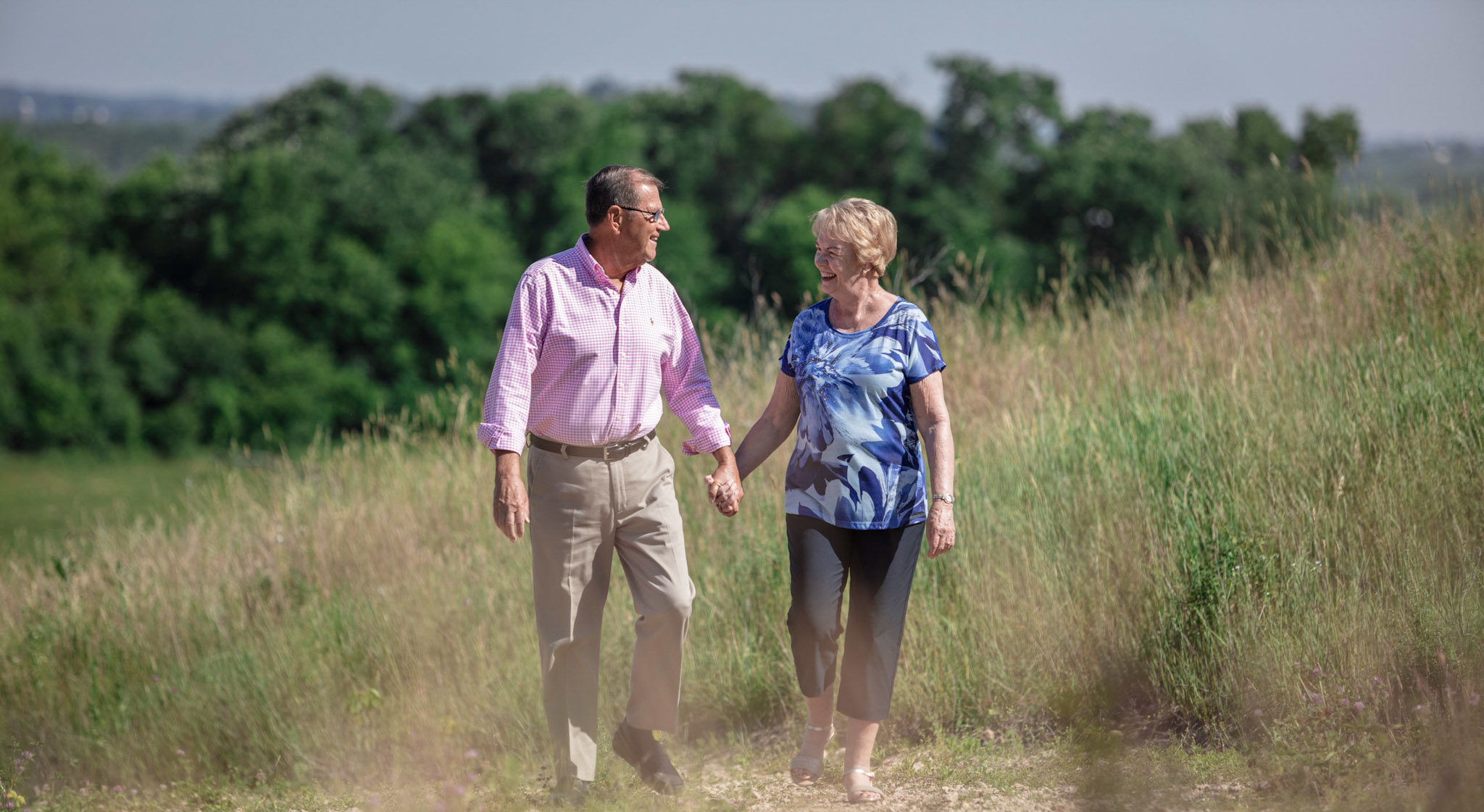 Throughout his career, Jerry Smith dedicated volunteer service to furthering the cause of environmental organizations too numerous to mention. However, he remembers fondly a dinner with the "legendary" Aldo Leopold siblings about 30 years ago. "They invited me to join their board along with two distinguished scientists as the first non-family members," he says. "We still remain in contact with Estella Leopold today."
After recently celebrating 30 years in business, First Business Bank now has about 300 employees and banking locations in Madison, Brookfield, Appleton, and Leawood, KS. That's an accomplishment the Smiths both find satisfying. "It's not just the people who work at the bank, but all of the employees at the companies that bank with us, including the ones we helped to get off the ground," Jerry says.
"It's a trickle down effect. But to me that's equally gratifying because all those jobs might not otherwise exist."
As Jerry reflects on the early trauma in his life, he says it influenced him to seize opportunities. "I'm a big believer that some of the worst things that happen in your life are the best things that happen," Jerry says. "My father's accident I always thought was the worst thing that ever happened in my life. But in terms of the way I look at life and things and living for today, everything for my whole life is because of that. Because of the way my family's, his life, changed just like that. As a result, Donna and I have never let any grass grow under us. Ever." Jerry says his philosophy is, "Plan for tomorrow and live for today."
Retirement
Jerry says he used to laugh when retired friends who thrived in retirement would tell him they didn't know how they found any time before because they were so busy in retirement. "I thought that was about the most ridiculous thing anybody could ever say. That is so illogical," Smith laughs. "But now I don't know where my days go. We are busy and we love it."
"I love retirement," he says. "I can tell you — that's the bottom line. I really enjoy my retirement in a way I would have never expected. Frankly, my only regret is that I didn't do it earlier. I was ready. So all of a sudden, that was it. I decided it was fully time to move on, and I'm really happy I did."
Smith served as CEO of First Business Bank from December 1989 to December 2006, as the Chair of the First Business Bank Board of Directors from April 2001 to December 2003, and as a director of First Business Financial Services, Inc. from December 1989 to October 2018. He was Chair of the Board from July 2006 until 2018.
Upon deciding to retire, Smith says his entrepreneurial, independent spirit played into the decision. "I just knew," he says. "All of a sudden, at the time I realized I was almost 75 and thought, 'I just don't want to do this anymore. That's enough responsibility.' I'd been doing it for so long that it almost seemed like I never didn't have all that responsibility."
After chairing a meeting, he told Donna about his decision. "And I've never, ever second guessed it, but I would also say that's pretty typical of me," Smith says. "I also knew the company would be in good hands with Corey (Chambas) and Jerry (Kilcoyne). I had hired and mentored Corey for many years, and we shared the same values."
Dividing their time between Florida and Wisconsin, Donna and Jerry keep busy together reading, traveling, hosting family, watching Wisconsin sports, and auditing local collegiate classes to learn new things.
"The emails that I used to get," Jerry says. "The first thing I'd do in the morning is turn my phone on, check my emails. Most of the time now I don't have any emails except for my newspapers."
Donna agrees, "I think the thing is when you get up in the morning, you don't have to get in the shower and get dressed," she says. "Throw that cup of coffee down and rush out the door. We can relax and eat breakfast right here together."
"Recently we spent a weekend in Key West and saw Hemingway's house," Jerry says. "My kids like to say, 'Our parents are taking a vacation from their vacation.' Now I'm reading a book of Hemingway's short stories." Donna says there's never time to get bored in retirement. "We have a positive attitude and stay busy. Every day I have a list of things I want to do," she says.
Donna points out that they make a good team, and Jerry agrees. "We balance each other out," Donna says. "One time, you gave me a poster of a dog and a cat, and it said, 'It's because we are so different that we have so much in common.' And I had that poster for a long, long time. It's so true."
The Smiths' Recipe for Retiring Right
Prepare, be decisive, announce.
People can be persuasive, so once you make up your mind to retire, Smith suggests making a plan, telling people, and sticking to your plan. You don't want to second-guess your reasons at the last minute. "I wanted to make sure it was broadcast quickly so it would be difficult for me to retract it," Smith says. "I came up with a plan fast and implemented it and then there was no turning back. I've never second-guessed that decision from that moment on."
Know yourself and your goals.
While Smith technically semi-retired almost ten years before fully retiring when transitioning from CEO to Board Chair, "I always had it on my mind and still felt like I had a lot of responsibility." As a retiree, he's pleased to offer business advice when asked by friends, but he doesn't want a formal board role. "I became a manager at age 21 and had responsibility early, so I really don't want it anymore. I sleep well at night. I don't worry."
Cultivate your interests.
Smith loves history and has audited many local college classes. He and his wife of 55 years, Donna, love to travel and enjoy watching Badger basketball and football together. Smith reads four newspapers daily, follows the news online, and both are avid book readers. They also walk together daily and host their share of visitors and family over the winter months in their Florida home. When in doubt, Smith says try something new that sounds interesting – it might become your passion.
1. https://www.stlouisfed.org/on-the-economy/2019/may/how-many-people-will-be-retiring-in-the-years-to-come
2. https://www.census.gov/newsroom/press-releases/2018/cb18-41-population-projections.html