Every day, our Equipment Finance team works with equipment vendors to help their customers finance equipment. We're talking everything from vehicles to veterinary equipment — our team has expertise in a broad range of industries. I guarantee we've financed equipment you may not even realize exists! And whether that equipment is used or new, we make it easier for our clients' customers to get the equipment they need.
Building Trust With Equipment Vendors & Their Customers
For a minute, though, I want to talk about that space — really an earned place of elevated trust — we occupy between equipment vendors and their customers. You know how much you cherish your relationship with your clients. They are everything to your business. Even handing over a minor part of that relationship to someone else can be nerve-wracking, and we are not a minor part of the relationship. Both parties — the vendor and the buyer — rely on us to help make this equipment transaction happen quickly, smoothly, and hassle-free.
I admire the close relationships our equipment vendors have with their customers — it's what makes them so successful, so we don't take this trust lightly at all. I'm a perfectionist who doesn't like to give control of anything over to anyone, so I fully understand it when we encounter hesitation from equipment vendors. And, unfortunately, there are too many horror stories of untrustworthy equipment finance companies that have taken advantage of customers or otherwise provide substandard customer experience. This not only leaves a bad taste in clients' mouths, it also reflects poorly on the equipment vendor as well.
Adding Value To Equipment Transactions
Who we are as an organization is very important in this relationship between our equipment vendors and their customers. There are a few ways our Equipment Finance team at First Business Bank differentiates itself from others so equipment vendors can verify that we're trustworthy.
1. We're part of a highly regulated publicly traded company. Our Equipment Finance team is part of First Business Specialty Finance, LLC, a subsidiary of First Business Financial Services, Inc. (Nasdaq: FBIZ). Publicly traded companies are subject to a higher level of financial reporting and scrutiny than private companies, so there's natural transparency you may not get with other equipment finance providers. As a highly regulated bank, we follow strict confidentiality rules, including how we protect sensitive customer information.
2. We're a nationwide, self-funded direct lender. As part of the First Business Bank happy family, we are self-funded, so when your credit is approved with us, it's approved. It may seem simple, but with some Equipment Finance providers, a "slow no" is standard operating procedure. We're not a broker shaking trees for approvals. It's one way we cut down on extra hassle and back-and-forth nonsense for you.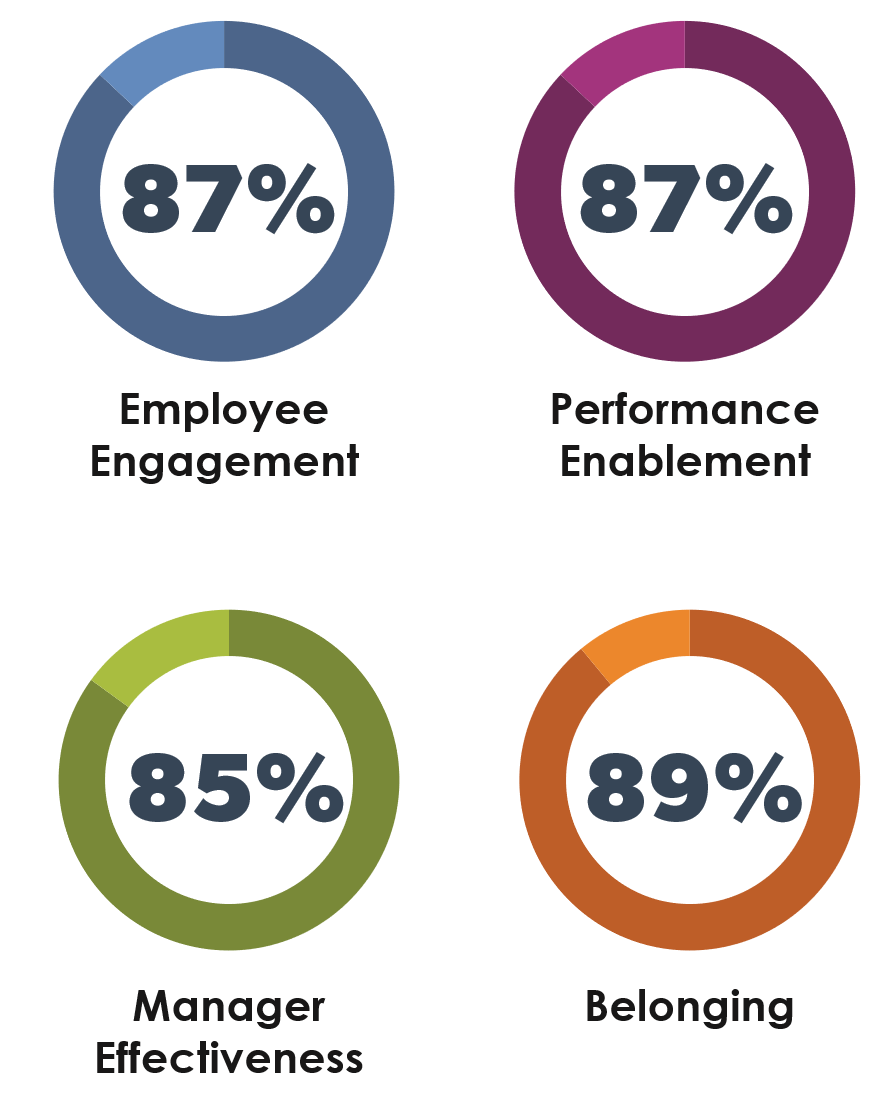 3. Our employees are happy. This might cause you to say, "So What?" but we've found it's actually a very important component of delivering exceptional client service. When you've got employees who are lukewarm about their work, they tend to put in mediocre performances. That's not really who you want handling your customers' important financial data. In 2021, our company had a 12.23% turnover rate — well below the industry norm. And First Business Bank was named a nationwide Top Workplace in 2023, an award that's voted on by employees. Along with that, our internal employee survey found 87% of employees feel engaged with their role to First Business Bank, 89% of employees feel a sense of belonging here, 85% agree their manager is effective, and 87% say they are enabled to perform in their jobs.

4. Our clients are happy. Our employees are happy, so our clients are happy. It's not a common metric in some industries, so I don't often talk about our Net Promotor Score (NPS), but it definitely merits a mention here. A few years ago, our company decided to add NPS to our long-standing client satisfaction survey. It's a very simple question: "How likely are you to recommend First Business Bank?" There are some sophisticated calculations that happen behind the scenes to come up with our NPS. This past year, our company scored a 77, which is a fair bit above other banks, whose average score is 30.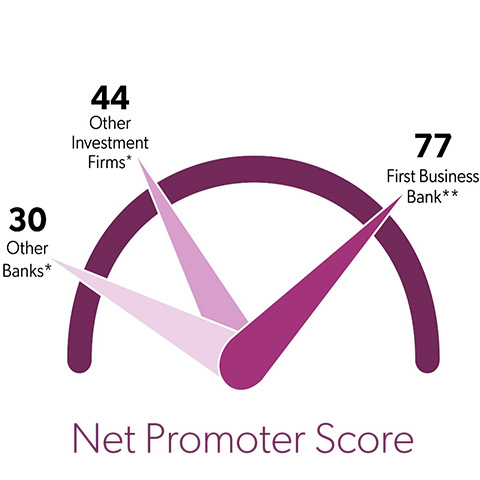 5. We follow through with urgency. Timeliness is very important in this industry, never more so than right now with the severe lack of available inventory. When your customer wants to buy equipment from you, they don't want to wait. And you don't want them to change their mind. Time is quite literally money right now, so you and your buyer want a frictionless equipment transaction that happens seamlessly. That's our goal, too, and because we've got everything I mentioned in #1 through #4 here, we can deliver on #5. Do we always, 100% of the time? No. We are also humble and we own up to our mistakes, doing what we can to try to make it right. We try our best every time. (Remember, I'm a perfectionist.)
We know we're not a fit for every equipment vendor out there, and that's Ok. Sometimes we have to wait for our competition to stumble and then we're there as an attractive, dependable partner. If you're an equipment vendor and could use a trustworthy equipment finance partner in that prime space between you and your customers, let's get in touch.
*NPS benchmarks reported in "The State of B2B Account Experience: B2B NPS & CX Benchmarking Report," CustomerGauge, 2021
**First Business Bank Annual Client Survey conducted by Dr. Moses Altsech, May/June 2022.