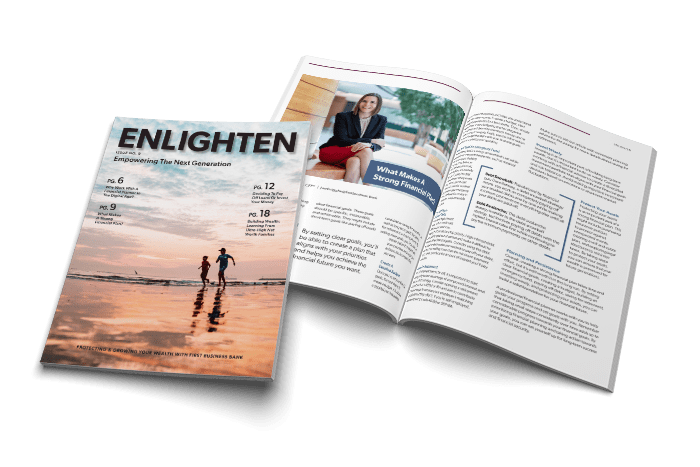 Enlighten Magazine
Enlighten is a semi-annual magazine from the Private Wealth Advisors at First Business Bank. Access issues of Enlighten to learn more about personal wealth topics to help you achieve your own idea of financial success.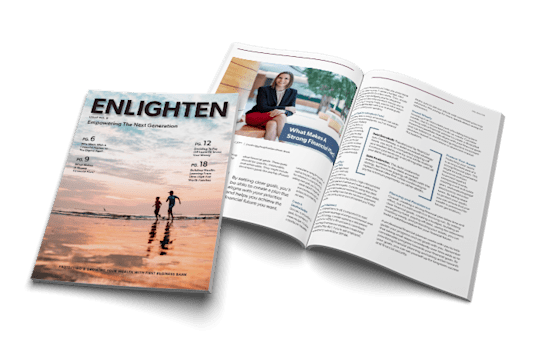 Empowering The Next Generation
Enlighten – Issue 9
Many young adults manage complex financial considerations that could impact them and their families for decades to come. With the average student loan debt rising every year, they may feel overwhelmed or unsure about how to manage their money effectively. Articles in this issue of Enlighten, published by First Business Bank's Private Wealth team, examine wealth, financial planning, retirement, and estate considerations to help them make informed decisions for the future.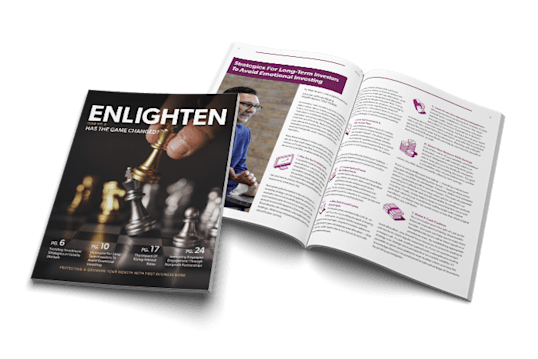 Has The Game Changed?
Enlighten – Issue 8
In the wake of global disruption that influenced many aspects of daily life, articles in this issue of Enlighten examine various wealth topics under the lens of change. From trending investment strategies and philanthropic legacy planning to the impact of rising interest rates and avoiding emotional investing, our experts guide you to help you protect and grow your wealth.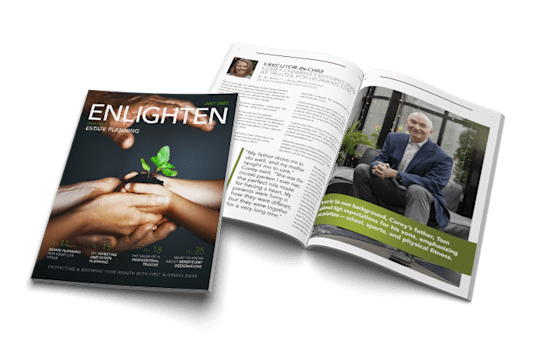 Estate Planning
Enlighten – Issue 7
In this issue of Enlighten, we discuss important issues surrounding Estate Planning, such as handling unique assets, planning for incapacity, what to know about beneficiary designations, and more. Our feature article interviews Corey Chambas, President & CEO of First Business Bank's parent company, about his family and his experience administering his father's estate.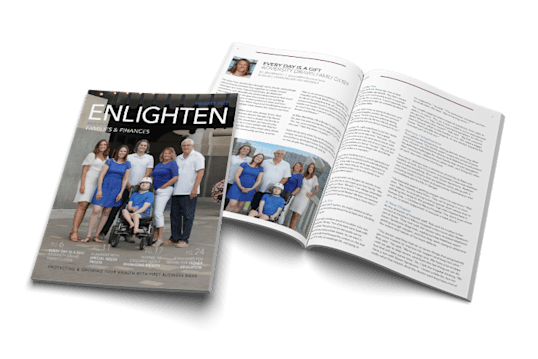 Family & Finances
Enlighten – Issue 6
Our Private Wealth team focuses on families and finances in the latest issue. With a feature article about Rob Barker, President of our Kansas City Metro office, and his family, this issue also includes articles about receiving an inheritance, raising fiscally responsible children, paying for higher education, structuring generational philanthropy, and more.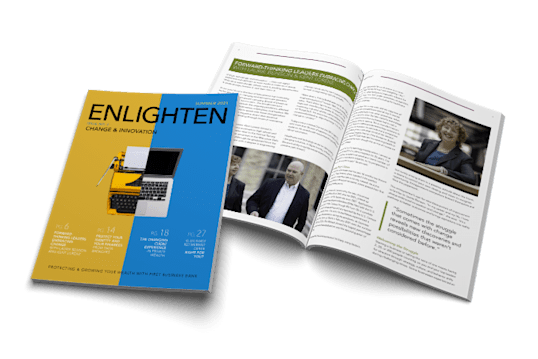 Change & Innovation
Enlighten – Issue 5
In this issue of Enlighten, we focused on opportunities and positives that emerge from times of Change & Innovation. For our feature article, we spoke with Laurie Benson & Kent Lorenz, two parent-company board directors who embrace change while guiding their teams to do the same.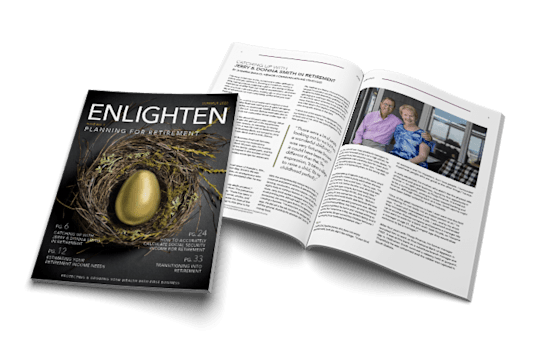 Planning For Retirement
Enlighten – Issue 3
This issue of Enlighten features the origin story of First Business Bank straight from Jerry & Donna Smith and how they're enjoying retirement today. Our experts also cover retirement from all angles, so we hope you'll find it interesting regardless of your career journey.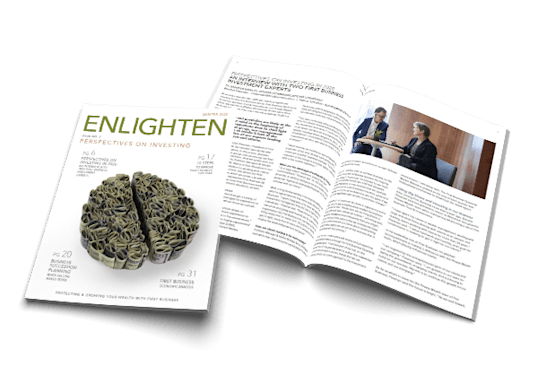 Perspectives On Investing
Enlighten – Issue 2
Learn more about financial wellness, business succession planning, and investing with our private wealth experts. This issue's a feature article focuses on Brendan Freeman, President - Private Wealth, and Senior Vice President Nancy Johnshoy, CFA, discussing investing.