A culture that challenges employees to improve continuously, combined with minimal management layers, makes it easier and expected for employees to advocate for themselves at First Business Bank. And that's what you need to learn right off the bat about Gretchen Engle. Her advice to those steering their careers within First Business Bank: "Don't be afraid to advocate for yourself!"
In September 2023, Gretchen was promoted to Loan Quality Associate II, and in 2020, she made her third move within First Business Bank from Deposit Operations, a team that handles deposit functions such as wire transfers, client documentation, account maintenance, and fraud issues, to Loan Operations, which helps to process loan applications, reviews loan documents, and handles client service. In her current role, Gretchen handles loan balancing, daily report review, and conventional loan review. Originally, she was hired in 2015 for a document management position to support both Deposit Operations and Loan Operations, but in 2017 she seized the opportunity to begin working as a Deposit Operations Associate.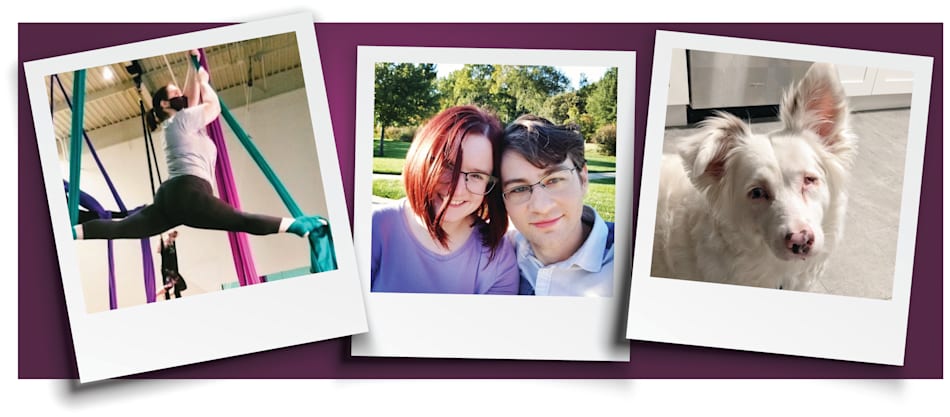 Career Mentors
She credits Angie Jennings, Mary McKilligin, and Cindy Coleman as her "biggest cheerleaders" as she started her Deposit Operations position in 2017. As Gretchen's supervisor, Mary helped her determine the next door she'd open at First Business Bank when Gretchen expressed a need for a change in her career, she said. "Mary was my supervisor for a couple of years, and she was always kind and supportive."
Now, in her current role, Gretchen also credits Patti Buechner and Kelly Bernardon for all their support and encouragement while she has been part of the Loan Operations team as a Loan Quality Associate.
Gretchen also mentions Cammie Lusse as "an excellent mentor to me in the realm of fraud and dispute processing, both before and after her transition into the compliance department."
Delight In The Details
In her previous position in Deposit Operations, Gretchen said the department all pitched in to do many different things. "We all tend to wear many hats. I love diving deep into the details, organizing and analyzing data, and solving problems," she said.
Gretchen uses the same skills in Loan Operations, but in new ways. "I love learning and analyzing new systems and processes while doing what I do best – being really nitpicky and detailed," she said.
You Might Not Know
Not everyone who works at First Business Bank has the same background — far from it! Our staff is a vibrant blend of people who come from all different jobs, careers, and educational backgrounds. As a great example, Gretchen has a graduate degree in library sciences, and is devoted to books. In fact, her dream job involves some leather-bound editions in a private library. "There are few things I love more in the world than being surrounded by books – so if some extremely wealthy benefactor wants to hire me to curate and maintain their expansive personal library, I would not turn it down!"
She also is skilled in aerial arts, preferring silks but branching out recently to static trapeze and aerial hoop. Gretchen also began loom knitting as a pandemic quarantine hobby.
At First Business Bank, we embrace the ways we're all growing and changing in our lives and our careers, and try to support employees as they branch out to learn more and discover other roles that help our company.