After 19 years at First Business Bank, Michael Losenegger is retiring. Michael held several leadership roles in his time at First Business Bank and has left a significant impact on the company and so many employees along the way. He reflected on his time well spent among high-performing coworkers building First Business Bank to what it is today.
When asked how the company has changed since he joined in 2003, his answer was very comforting because even though we've reached new milestones, he believes working at First Business Bank is very much the same. His observations are a tribute to the company's consistent culture that he helped to maintain throughout his tenure.
Single Best Career Decision
As persuasive as he can be, it apparently took a few years for Corey Chambas, President & CEO of First Business Financial Services, Inc., to convince Michael to join First Business Bank.
"Corey and I worked together at M&I Bank, which is where I developed a tremendous amount of respect for his banking skills," Michael said. "I must admit that I was shocked in 1993 when Corey told me he was leaving to join First Business Bank. At the time, M&I Bank was one of the largest banks in Wisconsin and First Business Bank was probably one of the smallest."
In 2003, First Business Bank offered Michael the opportunity to lead the Business Banking team in Madison as Mark Meloy transitioned to President & CEO of the First Business Bank's Southeastern Wisconsin office, back when the two locations were separately chartered banks.
"Thanks to Corey's perseverance, I eventually made my single best career decision," Michael said.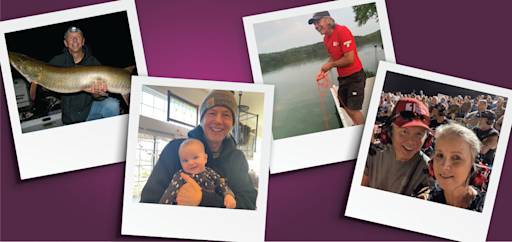 Appreciating Rewarding Work
At First Business Bank, Michael began as Senior Vice President of Business Development, was promoted to Chief Operating Officer, and then became President & CEO of First Business Bank's Madison location. In 2006, he accepted a position as Chief Operating Officer of First Business Financial Services, Inc., parent company of First Business Bank, and in 2011 became the company's first Chief Credit Officer (CCO), a role in which he served until March 2020, when he began executing a planned succession process and pulled back to four days a week.
"As the first CCO for the bank, Michael was not only stepping into a position with great financial responsibility, but one that could greatly affect our culture as the CCO position holds a lot of influence and authority," said Corey Chambas. "As we evolved to need to add that structure, he was the perfect fit due to the respect he garnered and his ideal 'Ideal Team Player' traits."
Throughout his time at First Business Bank, Michael found it easy to connect to the greater mission of helping businesses and communities thrive.
"The most rewarding aspect of the work I have done is knowing the impact that we have had on individuals, businesses, and the communities we serve," Michael said. "It is an awesome feeling to know we have helped individuals invest in their businesses which, in turn, has allowed those businesses to grow and create jobs in the communities where we lend."
Embracing Growth While Maintaining Culture
As you can imagine, a lot has changed in banking and business since 2003, when we were still four years away from seeing the first-generation iPhone and businesses were just beginning to adopt online banking. Still, Michael said although the size and geographic footprint of First Business Financial Services, Inc., has changed, many important principles have not.
"In 2003, we had slightly over 100 employees, while today we have 317 employees," he said. "Over that same time, our total assets have grown from $480 million to nearly $2.7 billion. We have grown our specialty financing areas, adding Floorplan Financing, Accounts Receivable Financing, and Equipment Finance. Additionally, we added Bank Consulting services."
Technology, of course, is one area that has changed, but Michael points out that First Business Bank has always embraced technology. One of our company's Statement of Beliefs addresses technology: "Recognize that change is inevitable, and it is the manner by which we stay ahead of our competitors. Employ technology to be as efficient and accessible as possible."
"The way we use technology has changed, but First Business Bank has always been progressive in its use of technology," Michael said. "For example, the prior bank I worked for had a huge file room to store all of the paper credit files, while when I joined First Business Bank, all credit files were scanned in and available at the touch of a few buttons."
Despite all of these changes, he points out that, "At our core we still lend money, help manage short term cash, and help manage long-term investments."
"The other thing that has not changed is our culture," Michael said. "While we have not always used the same terminology, humble, hungry, smart is what we have always been. To me this is an incredible strength of First Business Bank."
Building A Life After Work
Living on a 40-acre farmette first established by Michael's great grandfather, there's no shortage of projects to occupy him and his wife.
"I love working outdoors, including cutting and splitting firewood, mowing weeds, clearing brush, and driving our skid loader every chance I get," he said. "We also battle mother nature as we work to keep the raccoons and pigeons out of our barn and silo and keeping the coyotes and other critters from eating our chickens."
He also enjoys fishing and restoring items as he's currently restoring a 1969 Honda minibike and a 1938 Chevy sedan originally owned by his great grandparents.
Michael is passionate about his volunteer work with Lutheran Social Services of Wisconsin and Upper Michigan. With more than 800 employees, they provide a wide range of social services, including low-income housing, senior living facilities, mental health counseling, refugee resettlement programs, and foster care and adoption services. He has volunteered there for the past eight years and plans to continue in retirement. He's a member of their board of directors, serves as Treasurer for the company, chairs the Audit and Finance Committee, and serves as a member of the Investment Committee and the Executive Committee.
Although he will miss his job because "I genuinely enjoyed it," he said he's looking forward to, "the flexibility to pretty much do whatever we want when we want to and to spend more time with family."
Advice For A Fulfilling Career
Given all the time we spend working, Michael advises that it's important to do something you enjoy with a company that supports you and coworkers who share your drive to work together to achieve the company's goals.
"I believe you should work for a company whose culture is a match with your individual style and it's important to enjoy the people you work with every day," he said. "You don't necessarily need to be best friends, but there needs to be a level of mutual respect with your colleagues. I always found that at First Business Bank."