At First Business Bank, our more than 30-year legacy is built on the bedrock of teamwork and client-centric focus. We believe that collaboration not only elevates our services but also creates an environment that attracts top-tier talent committed to excellence. Now, it's time to turn the lens on four outstanding senior leaders in the banking industry who embody these values in our Northeast Wisconsin Market, leaders whose individual expertise and collaborative efforts are redefining what exceptional client service means.
Jerimiah Janssen, Vice President II – Commercial Banking
With more than two decades of hands-on expertise, Jerimiah Janssen is a cornerstone of our Northeast Wisconsin Market team, offering a wealth of experience that particularly benefits family-owned businesses operating in manufacturing, transportation, distribution, and trades.
Raised in De Pere, Wisconsin with deep family ties to the paper industry, Jerimiah also takes an active role in community and industry leadership. Beyond his credentials and accolades, what sets Jerimiah apart is his high-touch, personalized approach to client service — increasingly rare in the fast-paced world of banking.
Why did you join First Business Bank?
"I was drawn to First Business Bank primarily because of its distinct business model," Jerimiah said. "This isn't just another bank; it has a specialized focus on business owners. It was clear the bank was doing groundbreaking work in areas I'm passionate about. I wanted to get back to focusing on the manufacturing sector and family-owned businesses."
Jerimiah's family history guides his professional choices.
"Both my parents worked in the paper sector, as did virtually everyone on my dad's side of the family. In fact, my parents met there," Jerimiah recounts, underscoring his connection to the industry. "So, when I talk about focusing on family-owned businesses and the manufacturing sector, it's not just a professional interest — it's personal."
He elaborates how First Business Bank aligns with his own professional goals.
"The bank is growing, and it's exciting to be part of that," Jerimiah said. "The culture here is about welcoming feedback, asking critical questions, and figuring out how we can help our clients reach their objectives faster. We have a focused approach. For me, this is ideal, and I'm proud to say I'm now the lead on the Manufacturing Industry practice group."
How do you help clients at First Business Bank?
First Business Bank's collaborative approach emphasizes a full spectrum of financial services that go far beyond transactional interactions.
"We operate on a team-based approach, focusing on everything companies need — from cash management and treasury services to Private Wealth and 401(k) solutions," Jerimiah said. It's an ecosystem of financial care that I didn't experience at my previous employer."
Jerimiah stresses that this team-centric environment is not just an internal dynamic but also translates into the client experience.
"Our clients feel the unity and responsiveness of our team," he said. "We pride ourselves on promptness and connecting clients with a live person as quickly as possible."
His approach to customer service is heavily grounded in active listening. "I always make it a priority to hear what my clients are saying, understand their needs, and respond in a timely manner so they can make informed decisions."
The bank's organizational structure also plays a role in Jerimiah's effectiveness.
"The way our organization is structured enables me to get answers swiftly if I don't have them myself. That agility is crucial for our clients, especially in industries that are constantly evolving," he notes.
Reflecting on the bank's broader impact, Jerimiah concludes, "We don't just operate as a bank; we're community partners. We're proud to be originators of initiatives like Manufacturing First. This multi-faceted commitment to various sectors really sets us apart."
Rick Hearden, President – Northeast Wisconsin Market
With more than 33 years combined in Commercial Banking and business, rooted in Northeast Wisconsin, Rick Hearden is a pillar of financial expertise and community leadership at First Business Bank. Since joining as President of the Northeast Wisconsin Market in 2017, Rick's diverse experiences – from spearheading roles at Associated Bank to leading Horseshoe Bay Farms and Golf Club – have guided our team's success.
Rick's dedication extends beyond banking, reflecting in his commendable community engagements, making him an invaluable asset both to First Business Bank and the broader community. He sits on the corporate board of the YMCA Fox Cities and serves as chair of their Resource Development Committee. Rick also serves on the board of The Grand Oshkosh, the oldest active performing arts theater in Wisconsin.
Why did you join First Business Bank?
Initially drawn to First Business Bank because of its size and structure, Rick said he was also immediately impressed with the culture of the organization.
"I admired that First Business Bank is designed specifically for business and business owners, mirroring the core essence of my own years in banking," he said. "When I joined, it resonated with the same cultural vibe I felt with Associated Bank back in 1988. I've watched banks grow and sometimes lose their essence, but, even as we've expanded, our culture remains intact. That speaks volumes about our senior leadership and our wonderful coworkers."
Rick concluded with a note on his colleagues, "What's heartening is the passion each individual brings to the table here. Almost everyone I interact with not only cares deeply about their role but genuinely enjoys it. That's rare and precious."
How do you help clients at First Business Bank?
Rick brings a unique perspective to the banking industry that significantly sets First Business Bank apart in its approach to client relationships.
"My journey is not just about banking," he said. "I've spent considerable time as a business owner, running daily operations outside the banking sphere. This gives me a rare vantage point to truly understand our clients. I've walked in their shoes, faced their challenges, and celebrated similar milestones."
Rick emphasizes the depth of the bank's approach, stating, "While many banks talk about teamwork, we live and breathe it. We don't just assign a single point of contact; we surround our clients with a group of dedicated professionals, ensuring a comprehensive experience. It's not just about the depth of touchpoints, but the quality; our clients know every decision-maker involved in their journey, eliminating the mystery people often feel in larger banks where decisions seem to be made 'behind the curtain'."
Rick concludes with a reflection on his experience at the bank, "At the end of the day, our philosophy is simple yet profound: we genuinely care about our clients' success and envision a lifelong partnership that extends into future generations. Having been a part of various banks, I can confidently assert that First Business Bank has the finest team and the most nurturing culture I've ever experienced."
Nancy Johnshoy, CFA, Senior Vice President – Portfolio Manager & Market Strategist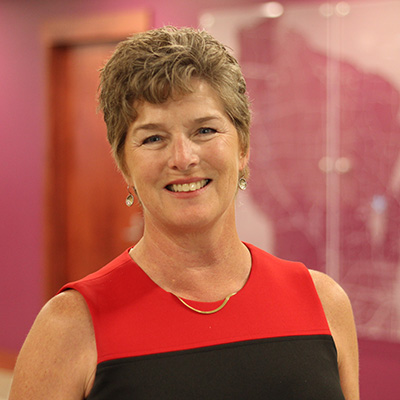 With nearly four decades of experience, Nancy Johnshoy brings an unparalleled depth of understanding to market cycles and investment nuances, having witnessed the industry's many fluctuations since the mid '80s. Her vast experience translates into a calming, reasoned approach that clients deeply value, especially in turbulent times.
Nancy writes First Business Bank's Quarterly Market Review, an in-depth analysis of markets and investments, and regularly presents to audiences about economic insights. She draws on her experience to put market fluctuations into context.
Why did you join First Business Bank?
"What struck me the most about First Business Bank was the authenticity and expertise of the senior leadership," Nancy said. "I was incredibly impressed by Mark Meloy, who was the interim market president for our Northeast Wisconsin Market at the time. I was impressed by the deep knowledge and experience of the Private wealth group. The bank didn't strike me as just another institution; it was clear that it had been crafted with a purpose to serve all clients, not just business owners." She adds, "A majority of my clients aren't business owners but private individuals or institutions who desire a genuine understanding of their circumstances and value personalized service. Here, we prioritize understanding their needs, fears, and aspirations."
Nancy comments that First Business Bank encouraged her to develop skills she had otherwise not explored at other companies.
"At First Business Bank, I've been afforded opportunities that truly expanded my professional horizons," she said. "First Business Bank encouraged me to venture beyond my traditional role as a Portfolio Manager. Specifically, the chance to engage with a wider audience through the Quarterly Market Review was a novel experience for me." She adds, "It introduced me to the realm of public speaking, allowing me to connect with larger groups and even influential community leaders. This shift not only enriched my professional journey but also tapped into what I genuinely enjoy. It's indicative of how First Business Bank nurtures its employees, enabling us to find and flourish in roles that resonate deeply with our individual strengths and passions."
How do you help clients at First Business Bank?
Noting that other wealth management firms prioritize their time with clients, ranking them in order of importance to the company, Nancy said, "That doesn't happen here. We treat everyone well. Frankly, some people go through things, and they really need us. We have the capacity and the heart to step in and be there when people have a need."
The close, long-term relationships First Business Bank's Private Wealth team builds with clients are treasured by everyone on the team. "Our relationships at First Business Bank are not transactional —they are deeply personal. We genuinely treat everyone with utmost respect and care. In fact, our focus is always on how to efficiently address client needs, especially during their life's pivotal moments — whether they're transitioning into retirement, undergoing a significant life change, or grieving a loss."
Bryson Machonga – Assistant Vice President II – Treasury Management
Since joining First Business Bank in 2017, Bryson Machonga has proven himself a leader in our Northeast Wisconsin office, helping Fox Valley businesses maximize cash flow, prevent fraud, and reach their goals.
Beginning his journey as one of the first Credit Analysts in a rigorous training program, Bryson then quickly was promoted to Treasury Management Officer, Assistant Vice President – Treasury Management, and to Assistant Vice President II – Treasury Management.
Why did you join First Business Bank?
Bryson said he found First Business Bank intriguing for several reasons, including an organic growth strategy, an inclusive culture focused on supporting employees, and a resulting lack of employee turnover.
"I was attracted to join First Business Bank partly because of the hunger we have to grow the right way; not through acquisition, but through proper organic growth," Bryson said. "Also, it seems many banks have higher turnover, but at First Business Bank, that isn't the case. It's very clear that our bank cares about our work life balance."
He was impressed with the people he met at First Business Bank, as well. "Here you are expected to be a great teammate, great with clients, and a great producer," Bryson said. "We believe we are the best business bank in the state and that comes with added responsibilities for us employees as teammates and servicing our clients beyond their banking expectations."
How do you help clients at First Business Bank?
As part of our important Treasury Management team, Bryson works closely with clients to help them optimize their cash flow and prevent fraud. "Our bank's approach to Treasury Management is much different than most other banks. My colleagues and I aren't 'order takers' here. It's exciting knowing that what I do every day makes a difference."
Bryson gets excited to come to work every day, knowing the challenges each day are different. "We have the best clients to work with," he said. "It's my job to stay on top of cash management trends and tools to ensure our clients are positioning their businesses cash as best as possible. It's my role to help them find new and efficient ways to bring in cash, protect cash while it's in their accounts with fraud tools, and disburse cash efficiently and effectively. When clients work with me, they will see a fun, trustworthy, genuine, reliable person they enjoy working with."
He also holds close advice from football's winning coach Tony Dungy. "He once said the best teams he has ever coached don't care about which individual gets the most credit," Bryson said. "There is plenty of success for everyone to earn. We aren't territorial and that makes our bank thrive."
These seasoned leaders within First Business Bank's Northeast Wisconsin office are part of a larger, experienced team serving Fox Valley's driven business leaders and investors. Together with their teammates, they champion a collaborative approach while ensuring that clients are always welcomed with proactive financial solutions, integrity and respect,, and an authentic commitment to shared success.