Investing For Success
Ensure your financial world is secure and on-track.
Proactively Manage Your Wealth with Investment Management for Private Wealth
You deserve a certified financial planner who is committed to helping you reach your short-term and long-term goals with strategic planning and great foresight.
As a high net worth individual, your focus is on maximizing your investments while achieving your numerous financial objectives.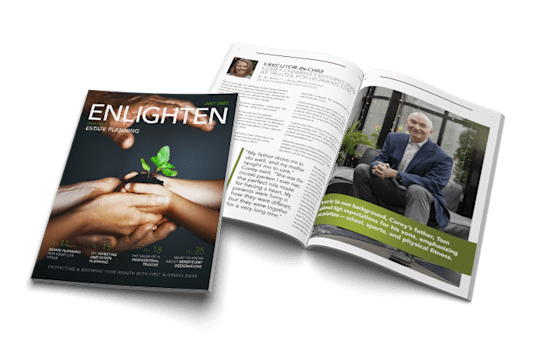 Read Enlighten For Insightful, Expert Guidance
Enlighten is a semi-annual magazine from First Business Bank's Private Wealth team. In this issue, we discuss important issues surrounding Estate Planning, such as handling unique assets, planning for incapacity, and what to know about beneficiary designations.
Discover how to invest in your success
Stay up to date with the most recent investment strategies and effective ways to maximize your wealth for the future.