As consumers use instant payments to move about their lives grabbing coffee, paying a babysitter, or reimbursing a friend, businesses often are still mailing out paper checks to pay their vendors and suppliers. In fact, about 33% of business-to-business payments made and received in the United States still use paper check, down from 42% in 2019.
What Is FedNow?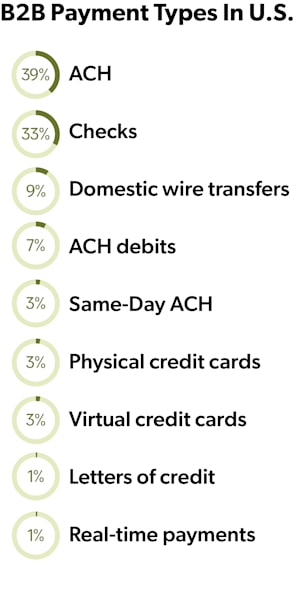 The Federal Reserve was created in 1913, in part, to oversee the United States' payments framework and ensure it is meeting our current needs. A survey conducted by the Federal Reserve showed that 73% of businesses would use an instant payment service. As technology drives the world forward, the Federal Reserve committed in 2019 to develop FedNowSM, a federal instant payment service that provides clearing and settlement for participating banks to facilitate instant payments.
FedNow is not an app — it's a payment rail that allows businesses to send and receive payments in real-time, 24 hours a day, 7 days a week, drastically shortening the cash cycle compared to check payments. In this article, we will explore the benefits of FedNow for businesses, how it differs from other payment services, and what steps companies can take to prepare for its implementation.
When Is FedNow Launching?
When FedNow was announced in 2019, the Fed gave itself a five-year timeline. However, it moved up launch date after a pilot project with several participating financial institutions went well and is scheduled to launch in July 2023.
How Will Businesses Use FedNow?
Alan McAfee, Chief Banking Operations Officer at First Business Bank, predicts that within two or three years, FedNow will be a commonly used payment choice. Among the uses could be for payroll, merchant processing, and more.
Payroll with FedNow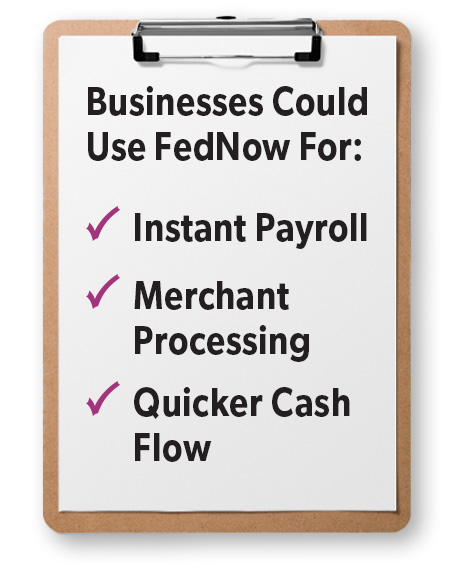 "I know it will be used and valued in certain industries," McAfee said. "There are use-cases that make a lot of sense going forward, like with independent contractors and as an immediate payroll option to get paid on the spot. That would attract employees in today's competitive market — instant payroll might even become table stakes for some businesses."
He explains that Automated Clearinghouse (ACH) payments work very well for employee payroll for many businesses, but others benefit from more flexibility.
"ACH works really well for payroll because you upload payments for hundreds of employees at once and two days later it appears in every employee's account," McAfee said. "If you're a fintech employing independent contractors, FedNow will turn that upside down."
Merchant Processing With FedNow
Merchant processing, which includes all the services and processes involved in accepting and processing credit card payments at your business, is another potential use for FedNow, he said.
"Right now, many businesses take credit cards," McAfee said. "They batch at the end of the day and settle a day or two later through ACH. Now it would be instant and they'd receive payment the same day. Would businesses pay a premium for that? Possibly, to improve cash flow."
Faster Cash With FedNow
People paying recurring bills often schedule them through their bank's online banking solution, such as BillPay. An instant payment option for businesses could allow a different way to pay.
"Once it becomes the norm, it'll become another option to pay," he said. "In the traditional BillPay world, if I want to pay my gas and electric bill, I schedule it. Sometimes it goes as a check and reaches the merchant in a few days. If you're running late, though, with FedNow you could pay instantly, potentially paying an extra fee to pay that way to avoid larger late fees."
FedNow may also allow the federal government to quickly disperse funds to individuals. "For instance, in a dire situation like a hurricane, emergency or insurance money could be sent to consumers immediately," McAfee said.
Business refunds to consumers and other businesses could happen more quickly, as well, leading to higher satisfaction ratings.
What Are The Basics of FedNow?
When is FedNow launching? The service launches in July 2023, and banks can choose to roll out the service as their providers make it available.
Does FedNow ever close, like the Federal Reserve? FedNow is an instant payment service that's designed to be available around the clock every day of the year. Unlike ACH and wires, you can receive or send FedNow payments at any time.
What is the payment maximum? The maximum payment you can send through FedNow will vary with a network limit of $500,000 per payment.
What are the costs for FedNow? Like any banking service, costs per transaction to your organization will vary by financial institution. However, fees per transaction to use FedNow may be lower than some other payment services businesses use, such as wire transfers.
What Are The Risks of FedNow?
For FedNow, the Federal Reserve built a secure payment mechanism bank to bank through the Fed for clearing and settlement.
"The service itself is secure and it's a push system," McAfee said. "So that means I push money to you – and the age-old rules apply. Know who you're sending money to and authenticate before you send it."
Like any instant payment service, like Venmo, Zelle, and Cash App, payment through FedNow is instant and final. That means it's crucial to verify who you are paying before sending the money.
First Business Bank always advises clients to authenticate electronic payments before sending using a different mode of communication outside of how payment was requested. For instance, if your supplier emails you new bank information and an invoice, find their phone number on your original contract (not the email or invoice), and call them on the phone to verify the new bank information. This advice still holds for FedNow payments.
How Business Leaders Can Prepare For FedNow
To prepare for using faster payment services like FedNow, there are a few steps leaders of businesses and nonprofits can take so their organizations are ready for instant payments.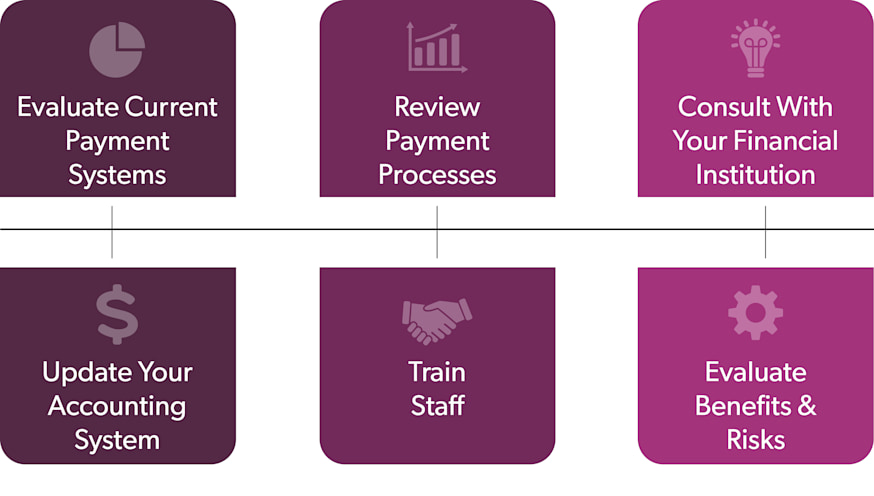 Evaluate your current payment systems: Take a look at the payment systems that your business currently uses and evaluate their speed, cost, and security. Consider how FedNow may be able to improve upon these factors.
Review your payment processes: Analyze your payment processes and identify any areas you could streamline or improve with FedNow. You might focus on how to reduce manual processes or automate payment reconciliation.
Talk to your business's financial institution: Reach out to your financial institution to learn more about their plans for integrating FedNow. Ask about their timeline for implementation and any steps that your business may need to take to prepare. First Business Bank plans to start as a receive-only bank in 2023, moving to full implementation of FedNow in 2024.
Update your accounting and financial systems: Ensure that your accounting and financial systems are up to date and can integrate with FedNow. This may require software updates, which is always a good idea to reduce the risk of fraud, or other changes.
Plan to train your staff: When FedNow is available, seek training for your staff not only for FedNow, but also on any changes to your payment processes that may happen because of implementing the instant payment service.
Consider the benefits and risks: List the potential benefits and risks of FedNow for your business. While the service offers benefits such as faster payments and lower costs, there may be risks. Your business cash flow cycle may currently rely on slower cash outflows, so paying instantly may affect your business drastically.
Overall, your organization might find many positives from receiving and sending instant payments through FedNow, including payment flexibility and increased cash flow. Planning in advance and training will help you and your staff to avoid some of the risks of FedNow, including the risk of paying someone else by accident because of fraud. Reach out to your First Business Bank representative about how your business might use FedNow, and what it might do to prepare, to determine if it's a good fit once it becomes available.