In a region with more banks per capita than most U.S. areas, we joke about a bank on every corner. (But honestly, sometimes, there are two!) So you can see the challenges banks in the Kansas City Metro face. Luckily, I work at one that is truly different – which makes all the difference.
What's unique about First Business Bank? It starts with our belief: We believe visionary, determined entrepreneurs and investors create a thriving economy and, in turn, create social and economic advancement for their employees, investors, families, and communities.
Instead of trying to be all things to all people, and delivering mediocrity, we focus on the unique needs of business owners and investors with a goal of serving them better than any other partner around. Throughout the last 30+ years this focused banking model has been in existence, we have data to prove, time and again, that it's both rewarding for employees and delivers unmatched results.
Who Is First Business Bank?
First Business Bank isn't a household name, on purpose. If it was, we'd be overshooting our target and wasting our advertising budget. We focus on business owners and investors, all day every day. And because of this, we know what works and what doesn't, and we plug into your team, serving as a coach, providing road-tested advice, sharing best practices, and connecting you to others who can help your business.
We focus on three main areas: business banking, which covers traditional commercial banking and financial alternatives through specialty finance; private wealth management; and consulting to other bank leaders.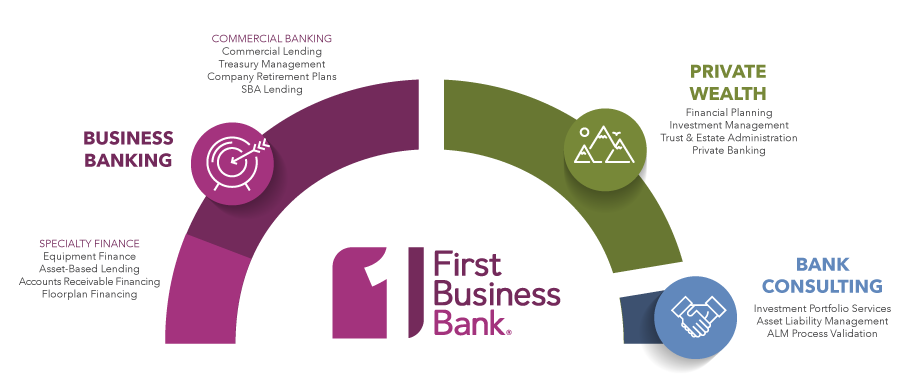 Today, with a nationwide reach, we're publicly traded on Nasdaq (FBIZ) with over $2.7 billion1 in total assets and $2.9 billion in assets under management & administration.
Proud To Be A Top Workplace
We invest in our people, believing top notch talent and an entrepreneurial culture are key to our client advantages and our model's success.
I'm pleased with the success of this strategy. First Business Bank recently won a national 2022 Top Workplaces USA award from Energage. According to Top Workplaces USA, on average, fewer than 3% of eligible organizations earn a Top Workplaces designation. We're looking for positive banking experts in our KC Metro office, so if you're excited about what you're reading here, make sure to check out our open positions.

Unmatched Employee & Client Satisfaction
We strongly believe that employee satisfaction and client satisfaction are linked. Our annual client survey, conducted by a third party, gauges client satisfaction and asks for ways we can improve. The resulting Net Promoter Score (NPS) — likelihood to recommend a company — allows us to compare our performance to that of other leading financial institutions. The results speak for themselves.

Industry Recognition
Success for us is helping our clients reach and exceed their goals, but we also appreciate the recognition we get for our commitment to clients, employees, and the community. Some of the things we're most proud of include making Piper Sandler's 2021 "Sm-All Stars" list, recognition of an AHA Workplace Health Achievement Index in 2020, and achieving Top-10 Commercial Lender status by loan growth in the Kansas City Business Journal.
Always Looking to Improve
Earlier I mentioned that First Business Bank is all about continuous improvement. As a result of this mindset, we're always making room for great talent to join our team, looking for clients who want a competitive advantage, and relentlessly in search of new ways to help our clients.
Think you or your business is a fit? Don't hesitate to reach out to initiate a conversation.
1 Consists of all on-balance sheet assets for First Business Financial Services, Inc. on a consolidated basis.
2 Data as of 12/31/2021.
*NPS benchmarks reported in "The State of B2B Account Experience: B2B NPS & CX Benchmarking Report," CustomerGauge, 2021
**First Business Bank Annual Client Survey conducted by Dr. Moses Altsech, May/June 2022.