The other day, a newer employee made an observation that beautifully encompassed how I feel about working at First Business. He said, "It feels like we're all in this together and that isn't built overnight." So succinct and it encompasses the intentional decisions we make here, from broader strategic planning to hiring and benefits, and countless others. After almost 30 years, this company keeps finding ways to build on its trademark culture.
For many years, our employees have volunteered in numerous ways with so many nonprofit organizations – on their boards, with their events, and in almost any capacity available. We also provide structured volunteering opportunities for employees through United Way of Dane County's Days of Caring in Madison. It is a perfect opportunity for our teams to build camaraderie through sharing the experience of giving to an organization that benefits our community. We also get to share memories, warm emotions, and laughs – sometimes that's the secret sauce it takes to build strong work relationships. You can't always find that back at the office in conference rooms and cubicles.
Last year I participated in Days of Caring with a group of First Business employees at 4-C in Madison. The mission of 4-C is to ensure that every child has access to high-quality early care & education through integrated support and expertise. We spent the morning making learning packets for young children in southern Wisconsin. Not only was it a great experience since we were helping area children, it was fun to get to know some of my coworkers who I don't always see when I am at work.
Volunteer Time Off

As First Business Bank continues to grow, now with four markets and dozens of remote employees and those working in offices around the country, we decided to formalize the value First Business places on volunteering by offering employees a full day off each year to volunteer. This new benefit is offered in addition to the ways they're currently involved.
I'm happy to see that more and more companies are also offering paid time off to volunteer. The Society for Human Resources Management Employee Benefits Report shows a gradual increase over the past five years. In its 2018 report, 24% of respondents report offering volunteer time off compared to only 16% in 2014. Another 19% percent report paid time off "to serve on the board of a community group or a professional association."
Embrace Your Passion

Now, with this Volunteer Day Off, we're saying "We'd still love for you to participate in corporate activities our headquarters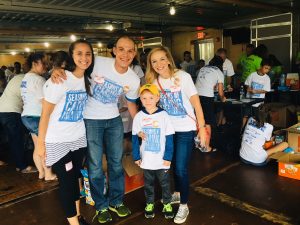 organizes like United Way's Day of Caring in Dane County, but if you have another passion or you live in Rock County or Kansas City, you should give your time where it's most important to you." We want to really give our people that opportunity to get out there and not use work as an excuse. We want you to take that day to refresh, step aside from work and do something good for people. And then you'll want to do good things for First Business Bank.
When we're at job fairs, potential candidates are impressed by this demonstration of our commitment to communities. They're not thinking "Hey, I get an extra day off." You can tell they see it as a cultural piece, "This company cares about the community, and its employees involvement in their communities."
At First Business Bank, we are all in it together. And when we're using our talents to spread good into the world, we're that much stronger together. If you're interested in finding out more about working here, please visit our Careers page, read some of our employee blogs that share details about our culture, and keep an eye on the open positions.