Supporting our communities, with both time and resources, is among the most important initiatives at First Business Bank — and has remained so for more than 30 years. In part, our belief statement says "…we have the experience to create both wealth, and a wealth of good in the world."
Along with financially supporting many local organizations in our banking locations, our employees are encouraged to pitch in on local boards and help nonprofits working to make a difference.
It was with that focus that our senior leaders and board implemented a "volunteer time off" benefit for all full-time employees. This paid volunteer day off allows employees time to give back to causes they care about deeply, contributing to their skills, networking, and allowing them to feel great about their volunteer work and First Business Bank.
In addition to paid volunteer time off, First Business Bank also organizes volunteer events for its employees. These events bring employees together, allowing them to give back to their communities but also increasing teamwork and camaraderie among colleagues.
First Business Bank participated in National Volunteer Week along with the Wisconsin Bankers Association's 6th Annual Power of Community Week, designed to showcase how banks power our communities. Take a look at some stories about how our employees are making an impact from across our footprint nationwide.
Rooting For Underdog Pet Rescue in Madison
When Duane McElvain, IT Services & Support Manager, and his wife moved to Madison, Wis. from Chicago five years ago, it wasn't too long before the COVID-19 pandemic hit, preventing them from continuing to meet new people organically. As they'd volunteered with pet rescues in Chicago, after some months, they started volunteering with Underdog Pet Rescue of Wisconsin, Inc.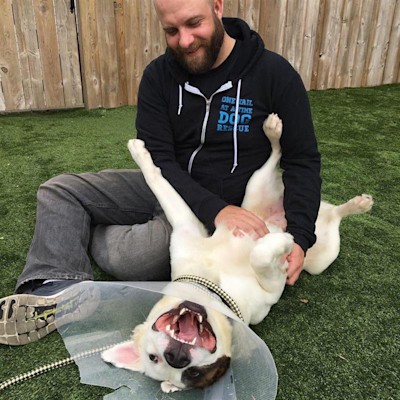 "We started small, helping to set up tables and handling dogs once public events became a little safer," Duane said. "Then my wife got very involved with adoptable animal photography and joined the Underdog social media team. I was looking for ways to get more involved myself and was able to join their Board of Directors. My hope is to bring my volunteer, professional, and technical experience to help them make a bigger impact in the community."
Duane also previously volunteered as a poll worker for several elections during the pandemic. "My thought was that elections are typically staffed by older adult volunteers, and during the pandemic they were among the most at risk, so I decided to step up to volunteer." He and his wife are also substitute drivers for the Evening Meals on Wheels program in Madison.
He says the emphasis First Business Bank senior leaders and managers put on volunteering helps to create an inclusive, involved culture that attracts people who want to make a difference.
"The focus First Business Bank puts on community involvement isn't just about shareholder reports or complying with federal banking regulations," he said. "We go above and beyond, and it makes a huge difference in the people we attract and retain. That's why I've been here for over four years – it's not just words on paper. We actively encourage people to use their paid volunteer time and look for opportunities to get involved."
Duane cited First Business Bank's commitment to Maydm, a local nonprofit with the mission to provide girls and youth of color in grades 6-12 with the skills, experiences, and connections to pursue careers in and change the face of STEM. As the IT Services & Support Manager, Duane works with students placed by Maydm as summer interns where they learn about IT services in a corporate setting. Early exposure to corporate IT gives students valuable information and experience that helps them make informed education and career decisions.
"We contribute financially to Maydm to help facilitate their programs and we pay the interns above market rate, so I know we mean what we say because we're doing something about it," Duane said. "You can look around without any cynical assumptions that we're just paying lip service. I see that we act on what we say instead of just talking about it. It's a big part of our corporate identity and we get to enjoy giving back in a variety of ways."
Pitching In As A Madison Big Brother
Volunteering is a focus that spans all locations and job titles at First Business Financial Services, Inc., parent company of First Business Bank. That includes senior executives, who find time to give back to our communities on nonprofit boards and volunteer initiatives.
Dave Seiler, promoted in 2023 to President and Chief Operating Officer of First Business Financial Services, Inc., began volunteering with Big Brothers Big Sisters of Dane County about two years ago.
Previously, Dave volunteered with several nonprofit organizations, including the American Diabetes Association, but his wife's work helped him to decide to choose Big Brothers Big Sisters.
He had a friend on the board of Big Brothers Big Sisters, and Dave joined their Finance Committee before joining the board in January of 2022. "Then I thought, if I'm getting involved with the organization, I should also be a big brother," he said.
"It's a good time in my life to get involved with Big Brothers Big Sisters, when I have time to give back since my kids are grown," Dave said. "I hear a lot about the challenges kids have today because my wife is a teacher."
He has had his current little brother for just over a year. "My little brother is struggling a little bit in school and other things, so my goal is to help him through that," Dave said. "It starts with building a relationship with him. I taught him how to ride a bike and how to swim. We do a lot of activities – play board games, video games, cook, ride bikes. It has been good. I have realized it takes a long time to develop a relationship. We get together on average about three or four times a month for two or three hours each time."
First Business Bank's employees are empowered to make a difference in the community, and that's important, he said.
"We talk about how, at First Business Bank, we have the experience to create wealth and a wealth of good in the world," Dave said. "We're important to our communities. We, as a company and as employees, donate resources and money to a lot of different initiatives, but our time is very valuable, too, and it makes a difference. We have talented employees who help the community in a lot of different ways. All of us who work at First Business Bank are fortunate, and encouraging our employees to donate their time and resources is the right thing to do."
Saving Seeds In The Fox Cities
Wendy Steward, Senior Client Relationship Specialist, an employee in our Northeast Wisconsin office, joined First Business Bank more than six years ago. Previously in her work life, work and volunteering were separate activities.
"At other places, we didn't organize volunteering events, and no one asked me what kind of volunteering I did," Wendy said. "It wasn't expected or part of our work life at other companies. They didn't make it a priority or make you feel good about volunteering. It's different at First Business Bank because it's encouraged, and we have the time to volunteer."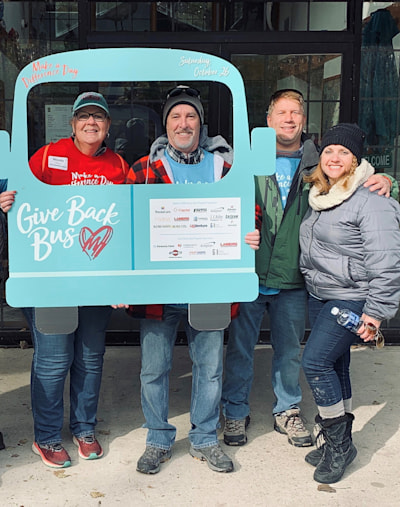 Before she came to First Business Bank, Wendy had started a grief support group for parents who lost children to addiction. When she started at First Business Bank, she began using the boardroom for meetings. Then, Northeast Wisconsin Market President Rick Hearden asked Wendy to look into volunteering opportunities with Volunteer Fox Cities…and Wendy was hooked.
"Rick asked me to go to a meeting to see what the "Make a Difference Day" event was about," she said. "I'm the type of person who is 'go big or go home.' So I told them at Volunteer Fox Cities that we can host the meetings in our office at First Business Bank from now on."
Volunteer Fox Cities, started in 1995, now serves hundreds of nonprofits in Calumet, Outagamie, Waupaca, and Winnebago counties in Wisconsin.
Over the past few years, Wendy has organized volunteering events for First Business Bank's Northeast Wisconsin employees, including a walk to benefit Alzheimer's research and others through Volunteer Fox Cities like three Make a Difference Day events. A team of volunteers goes to a secret volunteering destination and activity — volunteers find out what they'll be doing and where they'll be going for the day that morning.
Two of the events for Make a Difference Day were at Heckrodt Wetland Reserve in Menasha, Wis., once to clear buckthorn and a second time to gather seeds, Wendy said.
"We ended up gathering almost $1,000 worth of seeds for a total economic impact of about $1,500 saved," Wendy said.
Wendy joined the Volunteer Fox Cities board of directors, becoming close friends with the other board members and director, and now hosts board meetings at First Business Bank's office, as well.
"I appreciate the opportunity that First Business Bank gives employees to combine work and volunteer activities," she said.
Building Homes in Kansas City
A team of First Business Bank's Kansas City Metro employees tried on construction hats on a sunny spring day, getting out of their offices and picking up hammers to help build two houses for Habitat for Humanity of Kansas City.
Although two of the team members felt comfortable wielding tools, several didn't, so the experience left them feeling accomplished as they learned new skills.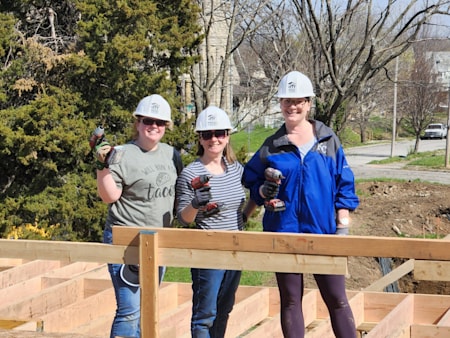 "It's a full day," said Jo Ellen Jung, Bank Administrator & Facilities Manager. "It's not like some volunteer events where you're there for two hours. We got lucky with the weather – it was nice and cool. They had me operate a nail gun and I've never done that. By the time you're done, you think, 'I can do this!'"
Professional construction workers helped to guide the novices and show them what to do. Still, it was a little intimidating.
"When I arrived onsite my first thought was, 'Uh oh, am I going to be able to build a house?' said Debbie Eldridge, Product Manager and Operations Analyst. "It was a little intimidating to walk up to a partially complete home with no second-story floor. The amazing part was actually getting to work and watch it all come together. It was tough and really taught me the value of skilled labor. It was really cool to see the work getting done — literally watch it happen. That, for me, was the most fulfilling. Plus, we heard the story of who the house was for. It was nice to hear exactly who we were helping."
It made an impression on the team members that the future homeowner not only helps to build their home, they also are equipped with education to help them be successful homeowners.
"The people who receive the homes put sweat equity into them," said Kala Sheedy, Portfolio Manager – Treasury Management. "I think about how it could be to build your own home. That is meaningful."
"I think they said the homeowner was taking all of her vacation around the holidays so she could enjoy the house when she was planning to move in," said Natasa Nikolovska-Arsova, Client Services Manager. "Being able to see the final product is fun for me, personally. That day made me appreciate my day job."
"In addition to the homeowner putting in sweat equity, they also receive financial counseling and training to give them additional skills to be a good homeowner," said Scott Crist, Vice President II – Treasury Management.
Often it takes about six months for a Habitat for Humanity home, said Robert Reagan, Assistant Vice President – Commercial Real Estate Lending. "Usually they build one-story homes but the ones we worked on were the first two-story homes and they had a poured concreted foundation instead of cinder block."
The local news even showed up to cover the story, and the First Business Bank team earned their 15 minutes of fame.
"I thought it was a great teambuilding event," Robert said. "Spending the whole day with our team outside the office really allowed us to get to know each other in a different way. The teambuilding aspect was just as good for us as it was helping out somebody and getting a sense of accomplishment."
For the team, volunteering at First Business Bank is a little different than with some of their former employers.
"At previous jobs, there were opportunities like this to sign up for volunteer events, but you never had time to do your own volunteering," Debbie said. "That was on your own personal time. It's nice to have time to do that now. It's always fun to volunteer with people you know so that you can get to know them a little better outside of work. There are more opportunities at First Business Bank to volunteer than I've had anywhere else so I hope that is something we continue to offer."
"First Business Bank gives us a dedicated paid-time-off day to volunteer," said Scott. "I've not had that in previous jobs. Usually, they say go do it on your own time. Here they encourage it and give you an additional day. That speaks pretty loudly to the importance of community at First Business Bank."
Navigating Life In Milwaukee
Founded in 1949, Life Navigators was started by a dedicated group of parents who came together to ensure their loved ones with disabilities were not sent away to live in state institutions. Together, they developed the framework for community-based services that continue today and support children and adults in leading healthy, active lives in our community.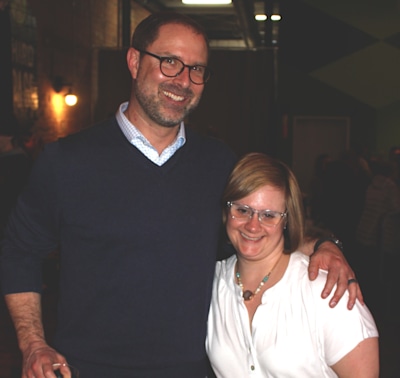 Greg Block, Vice President – Commercial Banking, first learned about Life Navigators through an accountant serving on their board. Greg joined the Life Navigators board 11 years ago and describes the process of finding his volunteering passion.
"As I looked at it, I wanted to provide service and I needed to feel good about the mission," he said. "This is so close to my heart. My wife was an aide in the Middleton-Cross Plains Area School District and worked with kids with disabilities before we moved to Milwaukee."
He also knew his service with Life Navigators would help his young children learn more about inclusivity and treating all people with respect. "I was brought up to treat everyone the way you want to be treated," Greg said. "Selfishly, I looked at it as an opportunity to show my kids what the world actually looks like, not a place where everyone looks just like them. They know what we do at Life Navigators, and the services they offer fill such a need in the community."
Each year, the organization touches the lives of more than 3,800 children and adults with disabilities and their families through their core programs, which include Trust Program & Futures Planning, Corporate Guardianship, Self-Advocacy & Independence, Care Management, Family Support and Information, Education & Assistance.
Life Navigators also works within 16 Milwaukee-area school districts, collaborating on transition planning for students leaving the districts. The organization also coordinates activities for consumers that provide social opportunities, community outings, relationship classes, and more.
Two of the founding families are still actively involved in Life Navigators today both on the board and friends group, Greg said. "In fact, at least 51% of our board needs to have a family member or a child with a disability, so you know we're not a board without experience that's directing the organization. More than half our board has a connection because they live it in their daily lives," he said.
Greg says while he has worked at multiple financial institutions of different sizes, First Business Bank stands out for its encouragement of employees in the community.
"First Business Bank has the right mix of allowing time to volunteer and encouraging each employee to really support what they think is most important in their lives," he said.
After more than 30 years of empowering employees to contribute meaningfully to their communities and making an impact through our local charitable foundations, we can proudly say that giving back is a strong part of the culture within First Business Bank.
Our collective efforts to create both wealth and a wealth of good in the world benefit our communities but arguably have more impact on our culture and how our employees feel about working at First Business Bank. Employees who volunteer together have more empathy for one another. In this way, this important facet of our culture allows our teams of engaged, fulfilled employees to work together to serve our clients better than any other financial partner.