Back in 2006, Brian Spielmann spotted an open Financial Accountant position in the newspaper, where we used to look for jobs back in the day. So much has changed since then, including Brian's career trajectory. However, over the years, Brian says the culture hasn't changed — part of the reason he has continued to grow his career at First Business Bank.
As Brian prepares to transition to the Chief Financial Officer position in 2023, he looks back on his career path and mentors at First Business Bank that led him to this leadership position in a publicly traded financial services company.
Joining First Business Bank as Financial Accountant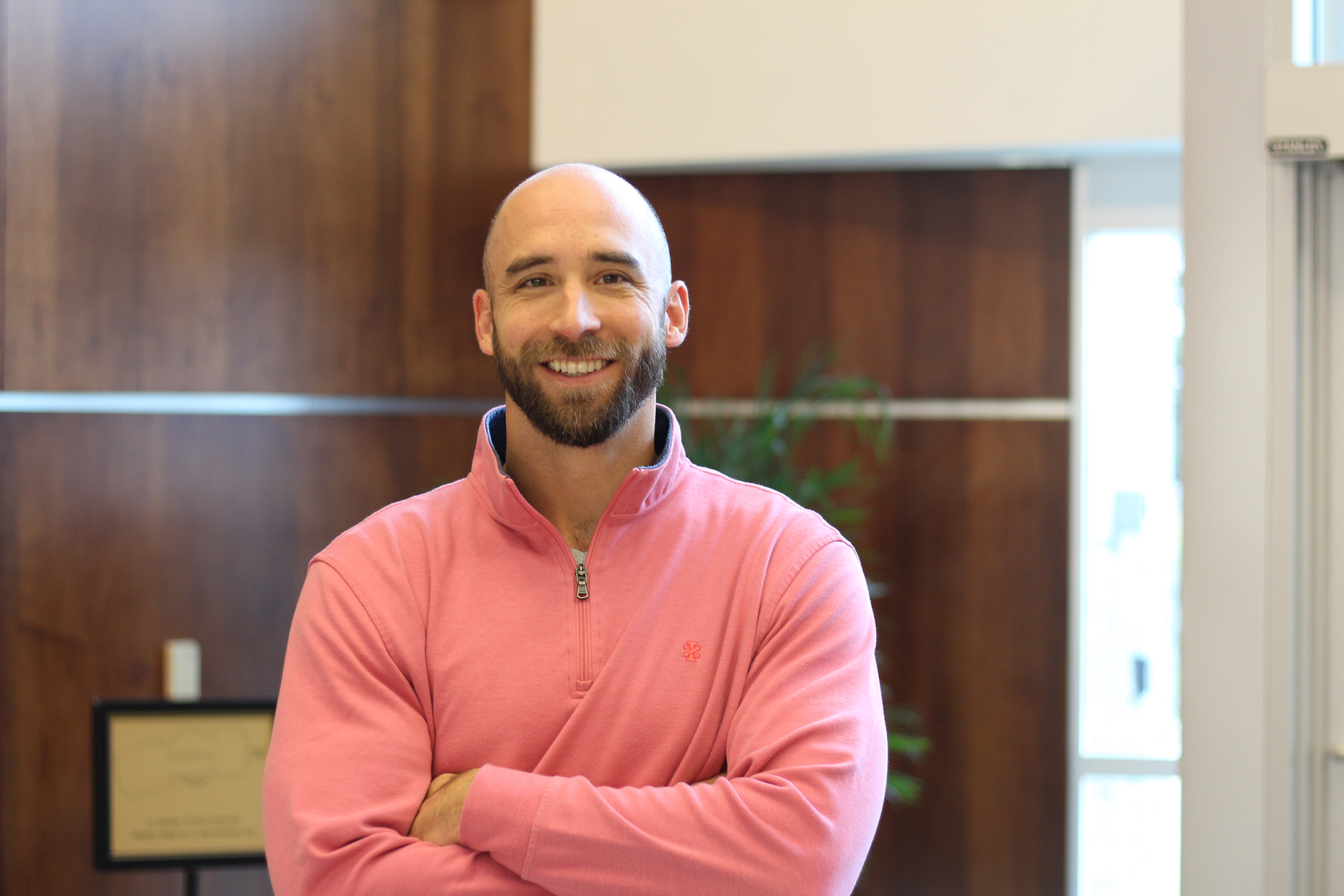 "As an accounting major, I knew I didn't want to go into public accounting," Brian said. So after graduating from Bradley University, Brian was looking for an opportunity to learn more about banking with his accounting degree. He got it, and much more.
"Right from the start, I was exposed to so much at First Business Bank," he said. "It gave me perspective and an immersive experience to realize that banking is a career I wanted to pursue. I knew the financial, analytic component of banking was fascinating to me."
Early in his career, part of his role included analyzing interest margins and business line financials. He found his niche providing insightful analytics in different ways to help illuminate the impact of the business. At that time, in the mid-2000s, First Business Bank had about $800 million in total assets.
"I always wanted to be a value-add business partner," Brian said. "And I liked that banking was a different type of accounting and analysis. And I liked the variety in my job. At smaller companies you do so many various things as opposed to only one part of a process, like at a large company."
In the earlier part of his career, Brian's titles included Senior Financial Accountant, Financial Reporting Manager, and Director of Financial Planning and Analysis. Prior to 2020, he served as Director of Finance for several years.
Finding a Challenge in Bank Finance
After years of working on the accounting side of the bank, Brian moved to finance, forecasting, budgeting, and supporting investor relations with internal and external financing reporting.
As Director of Finance, our Treasury team at First Business Bank, which is responsible for managing the Bank's liquidity and interest rate risk, reported to him in this role. This challenge also came with a broad scope of all the areas of finance at First Business Bank.
Career Development Starts With Continuous Learning
Stepping into new roles with more responsibility at First Business Bank, Brian says he always felt support from managers, mentors, and peers, within a culture that encourages continuous learning.
"Part of the culture at First Business Bank encompasses three main qualities: humble, hungry, and smart," he said. "As part of the hungry aspect, I was always asking for more education, learning opportunities, and pushing for the next challenge. And I always got such strong support from leadership for learning and development."
Early on, Brian earned his Certified Public Accountancy degree, and, after he was at First Business Bank for one year, he began a Master of Business Administration program at Edgewood College. He would go on to complete a Graduate School of Banking program at Wharton School of the University of Pennsylvania and a Fundamentals of Investor Relations course.
"When I reached a new position, I always had the desire to look externally for learning and development in addition to what my mentors provided on a daily basis," Brian said. "I think going outside of the organization can really help bring in new ideas, new perspectives, and make our team stronger."
Mentors Make A Career Fulfilling
Brian says his entire career at First Business Bank he has been surrounded by encouraging, hard-working people willing to spend extra time helping each other to succeed.
"Informally, when I started at First Business Bank, I learned from several people, including Wade Hanna in Treasury Management; Ken James, a Credit Department leader; Emily Bradley, head of HR recruitment; Matt Hill, formerly with our Asset-Based Lending team; and Jon Mueller, former AVP-Controller," he said. "Jon really laid the groundwork for my critical thinking skills — asking the "why" to fully understand what you're doing. I also learned such strong analytics and accounting skills from Jon."
As he prepares for the CFO role, he was heavily influenced by the two CFOs who served before him during the more than 30 years since First Business Bank's founding.
Jim Ropella, retired CFO, has been Brian's mentor for more than 15 years. "Jim Ropella is really good at achieving a consensus," he said. "Identifying what you want to accomplish and getting people in a meeting to come to the same conclusions using patience and the ability to articulate your position."
Current CFO, Ed Sloane, will retire in 2023, and Brian said Ed has supported him and helps him daily to prepare for the position. "Ed has always been an advocate, continuing to create roles and opportunities for people, including myself," Brian said. "He has enviable people smarts and is really one of those 'Ideal Team Players' we talk so much about. Ed really taught me to understand and prepare based on the audience."
Although a lot has changed since 2006, Brian said the culture has remained a constant. "Even though we've grown quite a bit, our hiring practices and senior leadership values and styles has kept it consistent. And First Business Bank does a great job of getting employees together to have opportunities to get to know each other."
Brian sees many senior leaders prioritizing their families first but putting in the hard work when it needs to be done.
"It's a give and take with four kids," he said. "Without the support of my wife, it wouldn't have been possible. Family is always first but there are times I've had to work a lot of hours after our kids go to bed."
Assuming the Chief Financial Officer Position
As CFO, Brian will take responsibility for the entire Finance team.
"I'm not going to be successful unless the team is successful," he said. "Like my predecessors, I plan to emphasize employee growth, development, and simply doing good work. I think that will be the most rewarding part of the new role. First Business Bank has been successful investing in our employees and that needs to come first to have a successful finance function to grow and support the bank."
Brian is looking forward to leading Finance to be a strong value-added business partner to the rest of the company.
"I'm looking forward to being the ultimate go-to partner," he said. "It all starts with the people and growing a strong team."
Advice for Growing a Career at First Business Bank
As someone who has pivoted and grown his career within one business, Brian's advice for doing the same includes advocating for yourself.
"Be your own advocate and seek out development that adds value and matters to your position," Brian said. "Do what you can to be an expert. Ask a lot of questions of those around you, too."
He also recommends finding an area or role that you enjoy and keeping an open mind.
"Sometimes there's ambiguity around career development, especially given the size of our company," Brian said. "A growth company naturally provides the opportunity and hungry people want to learn more and fit into the culture of a high performer. There will be opportunities, but it may not be a clear line of sight immediately."