Throughout the more than 30-year history at First Business Bank, we've focused on teamwork with the belief — and proof — that it builds collaborative, motivated teams working together to serve our clients better than any other financial partner. Teamwork also encourages respect in the workplace and attracts driven leaders like the four senior leaders we highlight today in this Spotlight.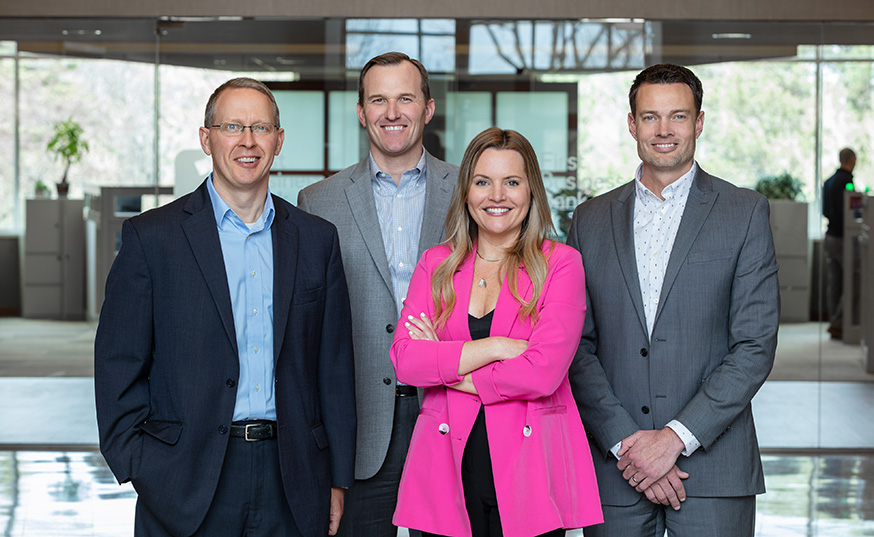 We'll explore how their expertise and knowledge benefits clients, ensuring the highest level of support and guidance for clients' financial needs.
Chris Doering – Senior Vice President - Director of Commercial Banking
As Senior Vice President - Director of Commercial Banking, Chris Doering leads First Business Bank's Commercial and Industrial (C&I) Lending team. He began his banking career almost 20 years ago at a smaller bank, moved to a larger, regional bank for several years, then intentionally joined First Business Bank, a smaller bank with big-bank capabilities.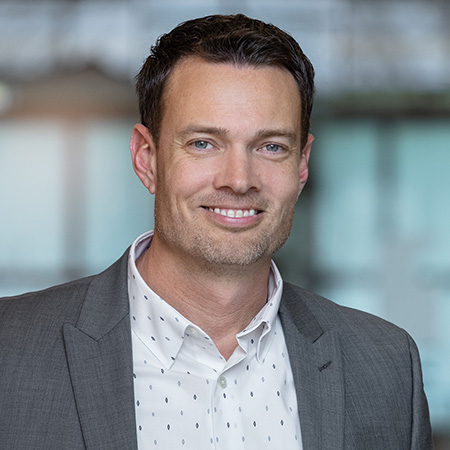 Why did you join First Business Bank?
"I liked working on complex deals at the larger bank, but I knew I was ultimately more interested in working with a wider range of clients, especially privately held companies in South Central Wisconsin. I didn't like the big bank mentality of needing to continuously hunt upstream, and I also felt over time that, as the primary point of contact for the client, I lost the ability to make decisions and advocate for my clients," Chris said. "I was excited to come back to a smaller bank that has resources that can support larger clients yet executes better than anyone in the market with service. Our clients and our colleagues have access to leadership and decision makers who listen and care, which is what I believe is most important."
With almost 20 years of experience in banking, Chris first met Jim Hartlieb, President & CEO of First Business Bank, when they worked together early in his career. When Jim joined First Business Bank, they kept in touch and Chris joined about 10 years later.
"When I worked for other banks, First Business Bank was always the toughest competition," he said. "It was always hard to pull business from First Business Bank. Over the years, I got to know Corey Chambas, Mark Meloy, Michael Losenegger, and many others which gave me a comfort level with First Business Bank and respect for the leadership team and the bank's culture before I ever joined."
How do you help clients at First Business Bank?
Since Chris joined First Business Bank more than five years ago, he's proud of the proactive way our teams work with clients to help create opportunities for them and when communicating in turbulent times.
"We do a lot of unique things at First Business Bank in terms of creating opportunities for clients to interact with each other," Chris said. "People take it for granted, but if you can create a business opportunity for clients through an introduction, that's extremely meaningful. And during challenging times, we've always taken the approach that we'll get in front of the situation and overcommunicate rather than wait for clients to come to us."
As a bank focused on business, First Business Bank created industry practice groups several years ago for industries like manufacturing, high tech and startups, professional services, and more, to benefit clients.
"Industry practice groups are very unique in our industry," Chris said. "For bankers to really understand an industry, take what we learn from our people in other markets and bring that to clients is very meaningful. By having the number of bankers we have with so much experience in all of our markets, it creates a lot of insights for our clients."
Melissa Fellows, Senior Vice President – Managing Director of Treasury Management
Melissa Fellows found banking was rewarding early in her career, which started in high school through a Business Co-op Program. Since that time, she built a strong expertise and network to help business leaders maximize their cash management strategies. Her goal has been to help bring the right bank solutions to her clients so they can focus on growing their company. In Melissa's current role, she enjoys actively being involved with clients and she manages our Treasury Management teams.
A few years after college Melissa was working as a Credit Analyst when a client-facing position opened at her bank. The role happened to be in Treasury Management, which entails helping businesses to streamline their operations by managing liquidity, protecting against fraud, improving information, and optimizing payables and receivables. She quickly rolled up her sleeves and never looked back.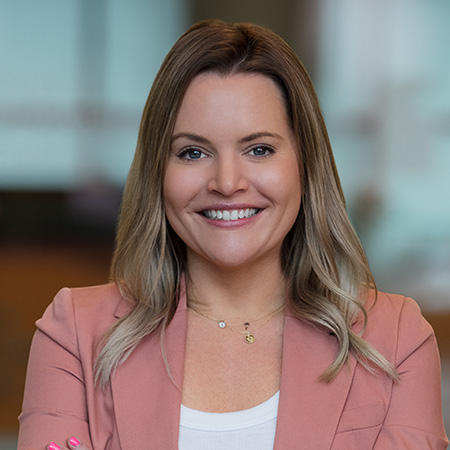 Why did you join First Business Bank?
With more than 20 years of experience in banking, Melissa joined First Business Bank four years ago after several years at a large regional bank. She remains excited about the opportunities to impact clients' businesses and the direction of First Business Bank.
"Treasury Management is extremely important to First Business Bank because we're focused on businesses," Melissa said. "The ability to have an impact on the bank was also appealing to me. It's fun to be on the winning team to grow deposits, increase revenue, and deliver business-focused banking technology."
Before she joined First Business Bank, Melissa said she was impressed by the team's distinct experience and focus.
"I knew a number of people here and I was drawn to the reputation and continuity of the team at First Business Bank," Melissa said. "We do not experience turnover here like other banks. I've been pleased with the culture here and our focus on it. That's what keeps our teams intact."
Since its founding more than 30 years ago, First Business Bank has prioritized a deep involvement in the community and encourages employees to contribute, as well, through donations and volunteering.
"Our community focus is definitely important to me," Melissa said. "Before I joined First Business Bank, I would see 'Corey & team' everywhere. I have always been involved in the community with organizations like United Way, so I knew that philanthropy was also important to First Business Bank."
How do you help clients at First Business Bank?
"I really enjoy bringing solutions to clients that help them run their businesses," Melissa said. "Even just a small tweak for us can have a really big impact for a business owner or finance team. Every business is different, and every conversation is different. I've enjoyed that from day one."
Technology has moved every type of business forward, including banking, which Melissa's teams leverage to help clients run their businesses more efficiently.
"Our industry is continually evolving with technology," she said. "It keeps Treasury Management new and exciting. To see companies we've worked with for 10 or 15 years leverage technology to grow and expand their business is rewarding. It's fun to see business partners we work with take off and succeed."
With the resources of larger banks and a focus on proactive client service, First Business Bank is in the position to easily differentiate the benefits it brings to clients, Melissa said.
"First Business Bank is agile because of our size," she said. "We can move more quickly to make decisions to implement technology for the benefit of our clients, which gives us more tools and resources to help our business partners."
Brian Hagen, Senior Vice President – Director of Commercial Real Estate Banking
Before joining First Business Bank 13 years ago, Brian Hagen, Senior Vice President – Director of Commercial Real Estate Banking, worked at M&I Bank in loan documentation and as a Credit Analyst until he took a position as a business development officer in Commercial Real Estate (CRE) Banking at M&I in 2004.
Building on several years of experience, Brian describes entering the Great Recession in 2008-2009 as a young banker suddenly in a stressed industry and making decisions about his career.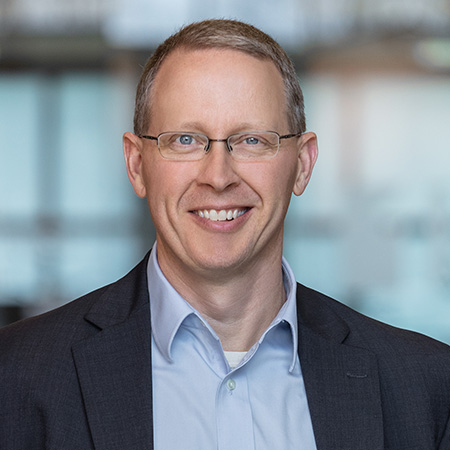 Why did you join First Business Bank?
"Jim Hartlieb had tried to recruit me to his former bank several years prior to me joining FBB in 2010, but it wasn't the right fit for me at that point in my career," Brian said. "Several years later, Jim joined First Business Bank in late 2009 and reached out to me shortly thereafter with the opportunity to formalize a CRE focus at First Business Bank. Prior to that point, First Business Bank was like most community banks with limited CRE industry expertise and lacked strong connections with the top RE developers in the area," he said. "I knew a little bit about First Business Bank, but frankly didn't compete against them due to differences in deal size and client expertise. I had a couple clients that had small relationships with First Business Bank, and they also spoke very highly about the management team here."
Back when Brian made the decision to join First Business Bank, M&I was a $60 billion bank and First Business Bank was about a $1 billion bank, he said. M&I was spread out across regions and was experiencing stress due to the economy at the time. He describes joining First Business Bank as taking a leap, but he was excited about the opportunity to help build a Commercial Real Estate team at First Business Bank.
"At M&I, we were the dominant CRE lender in the Madison market and I was comfortable where I was at doing larger deals and working with some of the top developers in Southern WI," Brian said. "Although M&I as a whole was starting to slow down, I was still really active and getting deals done. However, I was only one of six CRE bankers in the Madison office for M&I at that time and was also the youngest. Looking back, it was the best decision of my career to join First Business Bank at that time.
"It was attractive to me to have input on the direction we would go at First Business Bank," Brian said. "I liked the idea of being able to pioneer a CRE group and have a little more impact than at a big bank. I liked being closer to the decision makers, how our decisions are made locally, and I liked CEO Corey Chambas's vision for the bank."
How do you help clients at First Business Bank?
Brian and other senior leaders at First Business Bank reinforce an approach that leads with integrity to build trust.
"We do what we say we're going to do," Brian said. "Most of the clients we work with don't have problems getting financing. They can get a loan anywhere, but they want to work with us because of industry expertise and our experience of getting deals done. We have a very good team that can react quickly to make decisions."
Many of the clients Brian works with prioritize long-term relationships with a bank that has worked to fund their unique project in the past.
"We seem to gravitate towards deals that have more complexity," he said. "We do a fair amount of construction lending and tax credit financing, which are two areas a lot of our competitors shy away from. We also differentiate ourselves with longer loan terms and the ability to lock interest rates using derivative products. We also strive to provide quick feedback. A quick 'no' is way more valuable to a client than a 'maybe,' which ends up being a 'no' several weeks later."
Josh Hoesch, President – South Central Wisconsin Market
After growing up in a small town in Nebraska, young banker Josh Hoesch, President – South Central Wisconsin Market, started out at a bank in Chicago with a long commute. After eight years, Josh and his wife, who was originally from the Madison area, decided they'd prefer more balance between career and family.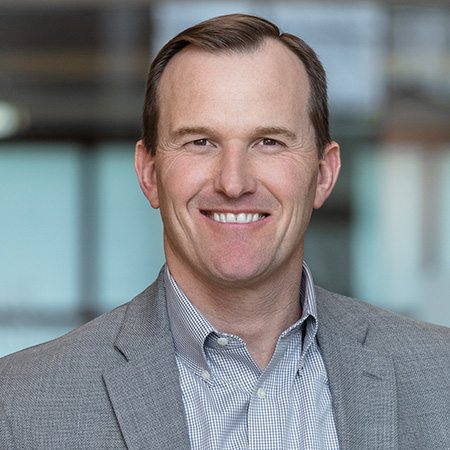 Why did you join First Business Bank?
"You could tell there was a focus on family and culture here," Josh said. "When I interviewed with Jim Hartlieb, Mark Meloy, Corey Chambas, and Jodi Chandler, you'd go into their offices and they have pictures of family all over their offices. It was different from the bank that I was at. I don't know if that was intentional, but you could tell there was a big focus on people from the start.
"You could tell they work hard," he said. "Loan committee was at 7:30am every week but they also coached their kids in sports. That culture goes back to Jerry Smith and Corey as they built the bank — work hard and expect a lot but your family is important, too."
Newer to the banking industry during the Great Recession, Josh said how the bank in Chicago treated clients made a big impression on him.
"I went through 2008-2009 with a big bank and I saw how they siloed industries and made decisions to get out of industries," he said. "At First Business Bank, we're lending to the right people and organizations. Character is a big deal here."
How do you help clients at First Business Bank?
"Business can be a roller coaster ride," Josh said. "You have good months and bad months. I've always tried to have a calm demeanor no matter the circumstances. When clients give you bad news, you want to stay calm, ask the right questions to help them figure out their next move, and reassure them they're not alone. At First Business Bank, if there's open and honest communication all along, we're pretty patient with how we handle situations. We try to put ourselves in their shoes, remember how we'd want to be treated, and try to find the right solution."
Building trust with clients is about offering mutual, candid feedback that improves the working relationship, he said.
"Clients often want to know what we think," Josh said. "The last thing you want as a client is to guess what your bank thinks. I'm always open and honest about how we're going to react to a situation. We are proactive and that makes us different."
A steady hand is important when economic crises cause uncertainty among clients, Josh said.
"The COVID-19 pandemic and the Paycheck Protection Program was harder to navigate than 2008-2009, I think, because more uncertainty created more emotion," he said. "You could tell there was a lot of anxiety – seeing how they reacted, and you could hear it in their voices. Where during the Great Recession, it felt more drawn out. We tried to be a steadying force for our clients to help reassure them everything was going to be OK."
These four senior leaders at First Business Bank bring highly relevant experience and expertise to their roles, along with a dedication to providing proactive, client-centered service. They build trust by prioritizing strong relationships with their clients, offering industry-specific connections and insights, and providing candid feedback. Their consistent commitment to teamwork and integrity has helped First Business Bank become a trusted partner for business leaders.