Upon retiring as Chief Financial Officer of First Business Financial Services, Inc. in 2023, Ed Sloane transitioned to a business development consultant role within our Bank Consulting team. He brings expertise from 40 years in banking leadership roles, including capital planning, acquisitions, and much more to our relationships with financial institutions to help them execute their strategic plans.
Our Spotlight focuses on Ed's career, what he has learned, and what he's excited about in his new role as he begins to work with executives at other banks.
Brought Up in Banking
A second-generation banker from West Virginia, Ed credits his father for piquing his interest in banking. His father was on the leading edge of computer technology when the banking sector was just starting to unlock the benefits of automation – a very interesting time to be in the banking business.
"My dad was a computer consultant in Pittsburgh in the mid-60s," Ed said. "He installed the first mainframe computer for WesBanco, a regional bank headquartered in Wheeling, WV, and they hired him to run it. He was also instrumental in establishing the first ATM network in the Wheeling area. Dad ran WesBanco's information technology for almost 40 years until he retired in 2004."
After graduating from college in 1982 and working in public accounting for a year, Ed accepted a position as controller at a small community bank in Wheeling before WesBanco acquired his bank five years later, and he and his father found themselves at the same bank.
"It was great to cut my teeth at a small community bank for a few years before moving on to a much larger company," Ed said. "I learned a lot during that time by taking many of their manual accounting and finance processes and automating them. Five years later, dad's bank bought my bank, and I ended up working with him for the next 20 years. I was the Controller and he led IT. We didn't cross paths often, but it was amazing to work at a place he was so instrumental in building."
Acquiring Experience in Bank Acquisitions
In 2008, following a rewarding career at WesBanco, a new opportunity arose. "I took a position as Chief Financial Officer at Peoples Bank, an acquisitive community bank located in Marietta, OH," Ed said. "This opportunity allowed me to draw from my wide range of experiences at WesBanco, including involvement in several acquisitions."
At Peoples Bank, Ed refined his experience in bank acquisitions. "It was always rewarding to work on an acquisition where everything seemed to fit and you knew it would be successful," he said. "Once the deal was announced, you would see almost immediate synergies from the two teams as they came together to take the business to the next level."
Moving to Madison to Work for First Business Bank
In 2016, with his two children grown and independent, and his wife ready for a new adventure, Ed started looking for a different banking experience to add to his career. Through a recruiter, he landed at First Business Financial Services, Inc., publicly traded parent company of First Business Bank. It wasn't his first time in Madison, Wis., however, and he was excited about coming back.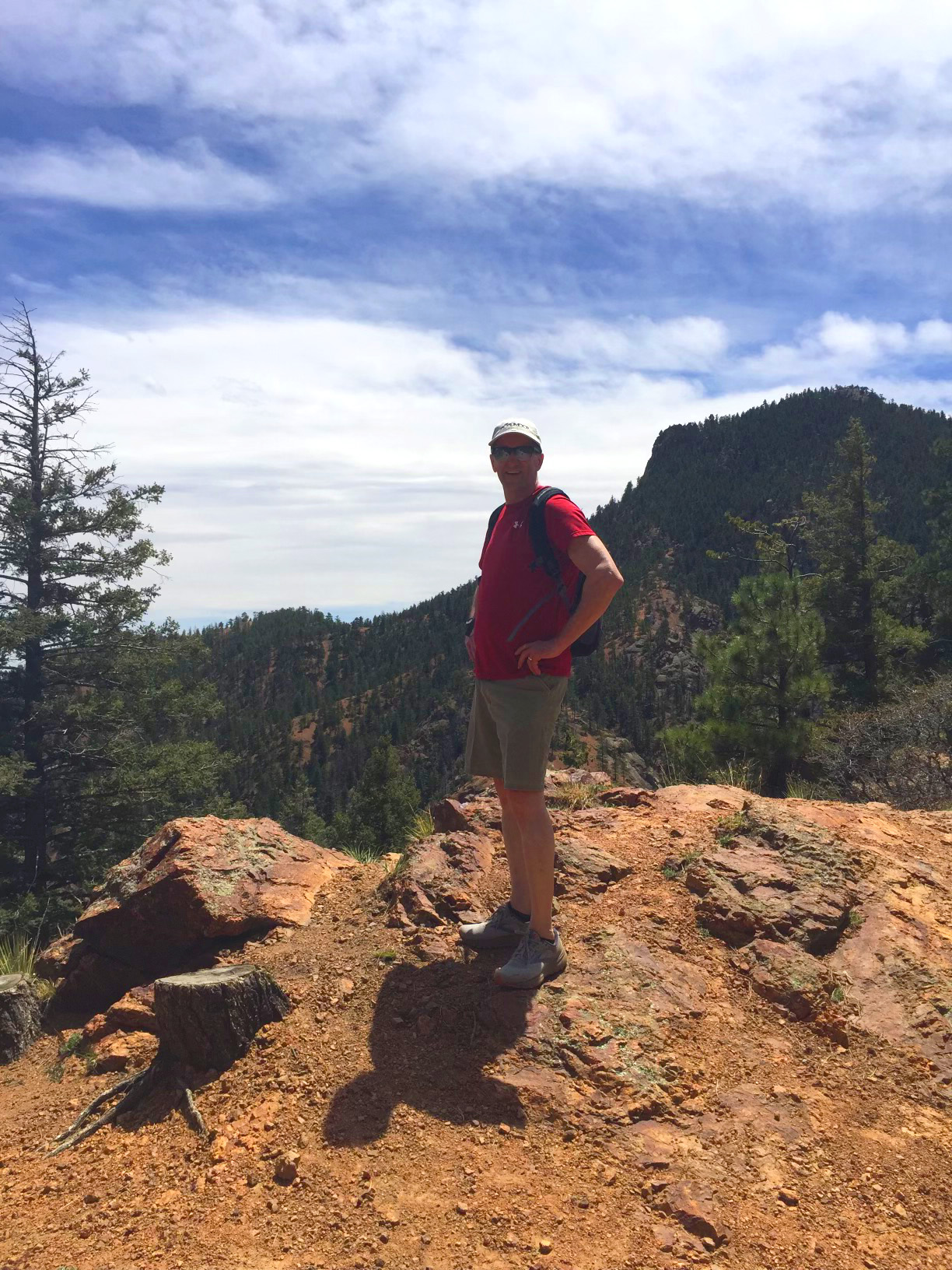 "I went to the Graduate School of Banking at the University of Wisconsin – Madison when I was a youngster back in the mid 80's," Ed said. "At that time, the program was two weeks a year for three years. I fell in love with the city and spent most of my free time at the Terrace and exploring State Street. It was just a wonderful experience to come to Madison, so when we moved here seven years ago, we've never looked back. My wife loves it here. Our plan is to retire in Madison and do some traveling during the winter months."
In his interviews with executives at First Business Financial Services, inc., including Jim Ropella, outgoing CFO whom Ed would replace, Ed was impressed with the company and its culture.
"I was intrigued by the bank and enjoyed meeting President & CEO Corey Chambas and Jim Ropella during the interview process," he said. "I thought we had a really good connection from the start, and I liked the unique structure of the bank. I had always worked for retail banks with extensive branch networks — this opportunity just presented an entirely different structure as a business bank with several business lines and a diversified revenue stream. And, it was pretty easy to gravitate toward a model that has shown incredible success. I was excited to contribute to it.'"
What's Different About First Business Bank?
As CFO for seven years, Ed says discipline and culture are two critical components of the success of First Business Bank and First Business Financial Services, Inc.
"First Business Bank has been very good at staying true to its roots," Ed said. "The way it was designed as a business bank, but also adding Equipment Finance, Accounts Receivable Financing, and all the business lines — they all make sense together. I think about that a lot. You really have to credit Jerry Smith but also the Board of Directors and Corey Chambas for staying true and disciplined to that structure. There's no confusion as to what we're trying to be. Now we're seeing the result."
First Business Bank's Culture of Belonging
From his first day at First Business Bank, Ed said he knew he'd entered into a welcoming workplace. "From a culture standpoint, it's a pretty special company," he said. "From day one, there's a feeling that you're valued here, and your opinion is also valued. It's so easy to talk to everyone in the organization."
More than valuing contributions, Ed said he sees people helping each other all over the company. "I give my time, listen, and teach where I can in any way. I think that's the feeling of value, and I've always felt that it fits. There was always a feeling like I belong in the organization. There's so much for this I would credit to our Human Resources team and senior management. Everyone is always there to give time to whatever's going on."
With frequent communication and opportunities to ask questions and contribute, First Business Bank sets the standard for aligning employees under a vision with its strategic plan. "The company and all the employees are always moving in the same direction," Ed said. "That harmony among our team is a recipe for success. Our direction is well-communicated and we're all moving in that same direction. The employee meetings are a great conduit. You get plenty of opportunity to hear about the financial success and ask questions and that's fantastic. It keeps the harmony going in every way — so important."
What Stands Out Over His Career
Ed says building relationships at work, helping employees develop their careers, and his volunteer work as a youth coach are the most memorable. "It's always been a balance between my banking families, my personal life raising a family, and giving back to my community in some way," he said. "I've been with four banks, and I have close relationships with a number of people in them. The thing I love the most is when someone who worked for me becomes a successful leader. Knowing I was there to help provide some of that development along the way is really important to me."
Coaching youth sports for several years while juggling his career was not easy, but very rewarding. "I coached varsity track, cross country, and hockey for many years," Ed said. "On top of all of that I was an accounting adjunct at a local university. From time to time, I still hear from some of my former students and athletes. Those were things I loved doing — and I was doing them all at the same time."
Financial success at First Business Financial Services, Inc., is also thrilling, Ed said. "Watching a bank achieve record financial success and hit on all cylinders is rewarding. When you can say that, it's a capstone on a career."
Advice for a Successful Career in Financial Services
A mentor can make all the difference for people just starting out and looking for direction in their careers, as Ed experienced. "I had a great mentor early on in my career — someone I could trust, confide in, and gain direction from in setting my career path and developing business relationships within and outside the company," he said.
"A good work-life balance is also important," Ed said. "Anyone who works in my department knows the importance I place on it. We have several people in Finance with youngsters, and they need added flexibility in their schedules to be present in their kids' lives. Work will always be there, but kids grow up, fast."
Helping Bank Executives With Cash Planning, ALM, Loan Participations & More
A new chapter of life for Ed brings energizing opportunities. After retiring and traveling for a few weeks, he is driving ahead in his new role within First Business Bank's Bank Consulting team. With more than 40 years of experience in senior financial leadership positions, Ed's new role as Consultant encompasses business development and calling on his extensive knowledge and experience in bank finance to help Bank Consulting clients achieve their goals.
"Our team is thrilled that Ed is calling on our friends in the banking industry," said Bank Consulting President Bill Uelmen. "With more emphasis on asset-liability management in in the banking industry, his experience is a true advantage for us at the right time."