From funding cancer research to volunteering at a local school or animal shelter, there are unlimited opportunities to contribute to important causes. As employees look for more meaning in their careers, embracing partnerships with nonprofit organizations can help businesses make a positive impact in the community while retaining valuable employees.
Building Culture With Community Connection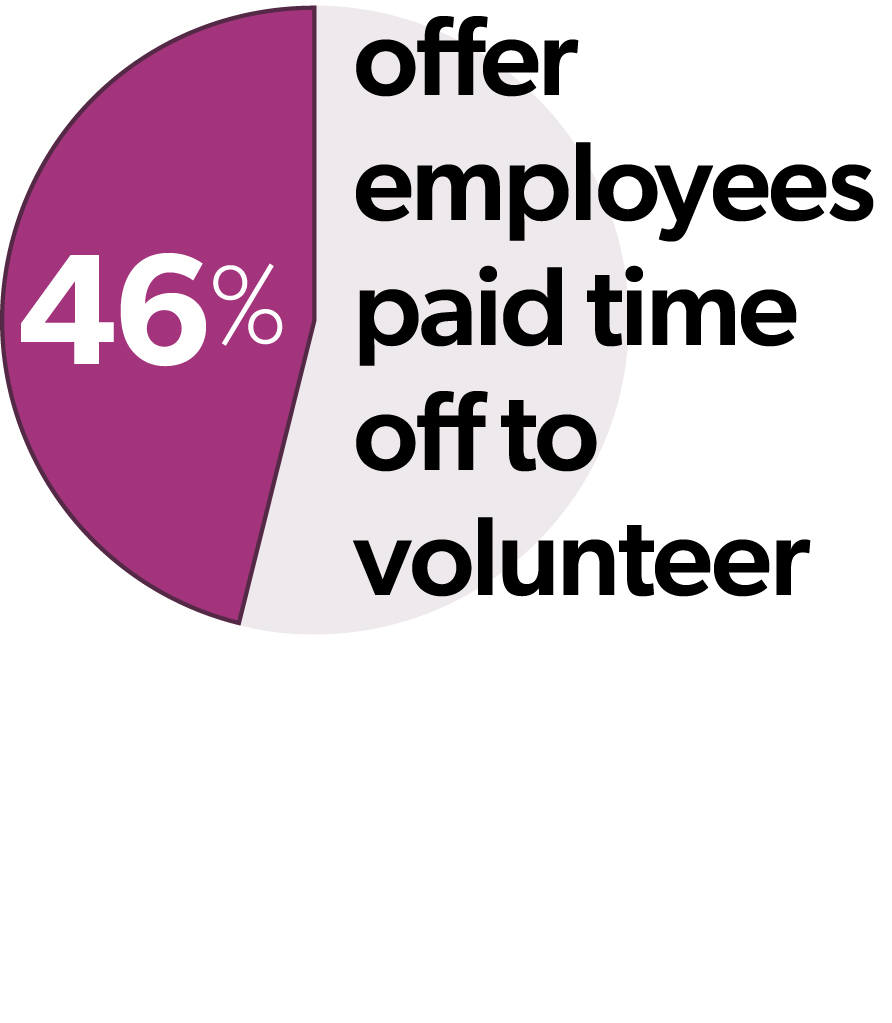 It starts well before employees are hired. Job applicants want to make a difference in their communities, and they want to work for companies that value that initiative. Statistics show more companies are prioritizing it. A U.S. News survey of 200 large companies shows that 46% offer employees paid time off to volunteer. When an employee feels that their employer values doing good work, they have greater confidence in the company.
Not only that, employees given opportunities to contribute to their communities and participate in causes and activities they care about are happier employees. In fact, a study of 70,000 people in the United Kingdom shows that people who volunteer are more satisfied with their lives and are healthier. They are more energized and want to work longer and at a higher level. Nonprofits depend on the generosity of their community and the time, talent, and treasures community members are willing to contribute.

A company that makes it a priority for their employees to engage in volunteer efforts increases employees' personal affinity both for their employer and the nonprofit or cause. Encouraging employees to align with a personal cause is a win-win for any company. The bottom line is that happier, harder-working, engaged, and highly invested employees help a business run better and accomplish more.
Employee Engagement Real World Experiences
A First Business Bank Podcast episode covering engaging employees in community volunteering featured two First Business Bank Advisory Board members who shared their stories of corporate community engagement. We were fortunate to hear from Debby Ballard, a retired executive for Sprint, who served as the President of the Sprint Foundation and Director of Community Affairs, and Chris Hess, current President and CEO of Goodwill Industries of North Central Wisconsin.
During her time at Sprint, Debby fondly recalls working with a small nonprofit in Kansas City, MO, on an event called "Christmas in October." This yearly event brought together employees and corporations from all over the city to help fix-up 20 to 30 houses for older residents and people with disabilities throughout the Kansas City community. In this one-day effort, volunteers cleaned yards, painted houses, and installed handicap rails and even roofs! The work immediately impacted both the volunteers and members of the community. Debby said she'll never forget witnessing homeowners in tears at the end of the day, expressing their gratitude at how the volunteers had changed their lives.
Chris Hess's experience perfectly illustrates an employee gaining skills to make a dream come true while personally aligning with a nonprofit. A Goodwill employee wanted to volunteer as a public address announcer for the Miracle League, an adaptive, all-inclusive baseball league for children with special needs. Working in a job-coaching setting at Goodwill to overcome significant barriers, this employee dreamed of becoming a sports announcer.
When first starting at Goodwill, they experienced difficulty communicating with team members, store leadership, and customers. However, a passion for sports announcing and a personal alignment with the Miracle League brought out the best in this employee, and, at the same time thrilled the audience and children participating in the league.
At one game, Chris sat with the employee's family and was moved by their emotions as they watched their child achieve their sports announcing dream. Chris recognized that the employee's dream became a reality through "volunteering and learning those skills on the fly, on the job, but also being able to take those into the community for a greater impact."
I can also contribute my own story of personal alignment with a community cause. I have the honor of working with and serving on the Board of a Kansas City area nonprofit called Job One, which provides employment and community support services for individuals with disabilities in our area. This population is too often overlooked, underserved, and left without a sense of belonging. Job One is constantly evolving to expand job choices and support people with disabilities in their efforts to achieve new levels of personal success, and ultimately create a more inclusive workforce. Knowing that I am making a difference and helping others in the work I do with Job One gives me a sense of purpose and personal satisfaction that energizes all that I do, including my work with First Business Bank. The fact that First Business Bank, as my employer, encourages and supports my engagement with Job One makes it all the more rewarding.
Corporate Alignment With Nonprofits
We know alignment with nonprofits is important for employee engagement, but what about corporate alignment? How does a partnership with a nonprofit align with a company's engagement goal?
While it is important for companies to encourage their employees to pursue their individual efforts in the community, it is vital for companies to have a corporate vision as well. When a company has a singular vision, it can draw employees, employers, and the community together to achieve their mission.
Partnering with a nonprofit is a mutually beneficial relationship. Not only do the company and the nonprofit benefit from their combined efforts and shared vision, but together they go out and impact their community for good.
Creating a Vision Together
A company's alignment with a nonprofit can look different depending on the company's vision. Every business ultimately wants to attract, hire, and retain qualified employees. Collaborating with a nonprofit that focuses on skill building and developing talent in underserved communities, such as Goodwill, is a perfect partnership to realize that vision. By doing so, a company can align their two goals of acquiring and retaining employees through their collaboration with a nonprofit while addressing needs in the community.
Chris Hess emphasizes the importance of such a partnership: "The power of the partnership between the organization and a Goodwill or a job developer can be amplified when they work together to serve those underserved in the community and give them access to skill-building and then, ultimately, sustaining employment with that employer. So that partnership and that focus of the two organizations coming together to get at a systemic issue, like upskilling our communities, can be incredibly powerful."
For Sprint (which merged with T-Mobile), their mission and vision had a different purpose. As a cell phone and data provider, their corporation had two unified missions: help keep kids safe online and provide home internet access to underserved students across America.
Previously they partnered with the Boys and Girls Clubs of America and the National Center for Missing and Exploited Children (NCMEC) to create the "4Net Safety" program and work towards their first mission: internet safety for children. Together they created and provided free resources (in both Spanish and English) for parents and teachers with ways to teach kids how to stay safe online.
Debby Ballard reflects that Sprint understood not only the importance of the data services they provided to their customers but the responsibility of keeping their youngest data users safe while online. Their partnership with the Boys and Girls Clubs of America and the NCMEC was the perfect way to align their shared visions.
To work toward achieving their second goal of providing free internet access to students, Sprint started "The One Million Project" in 2017. They joined forces with schools across America to provide internet connectivity ("hotspots") to one million families without internet access at home. Sprint engaged employees, customers, and vendors in the project by providing opportunities to participate and contribute towards the goal. The program has been so successful that T-Mobile has expanded it to become "Project 10 Million," with a goal of providing ten million student households with free hotspots and internet connectivity.
Ultimately, companies that align with nonprofits not only build employee engagement but have a platform on which to engage their community and beyond for many years to come.
Getting Started Building Employee Engagement
Many employees and employers want to be active, contributing members of their community but are unsure where to begin. Here are some ways to build engagement in your neighborhood or city.
Advice for Employees:
Find something you are passionate about and get involved. Some ideas: become a mentor at your child's school, volunteer to be a coach or team assistant for a sports team, seek training for your dog and visit hospital patients together, or sew blankets for people undergoing cancer treatment.
Talk to your employer about causes that are important to you.
Ask about volunteer opportunities or initiatives your employer may have or that you might start.
Advice for Employers:
Listen to your employees and find out what causes are important to them.
Provide paid time off or a volunteer day for employees to devote to giving back.
Encourage employees to get more involved in their community and stay involved by offering incentives. For example: when an employee volunteers for a certain number of hours, their cause receives a monetary grant, providing the nonprofit with both a committed volunteer and financial assistance.
Approach nonprofits with an abundance mindset. Many nonprofits are simply looking for an advocate in the community to provide passion and energy to a shared cause, not always be a main sponsor for their fundraising events.
Impacting the Community
Debby Ballard succinctly sums up the goal of volunteering: "It's just good to be good." When employees and employers come together to do good, both from an individual and a corporate standpoint, lives are changed, and great things happen in the community.
At First Business Bank, it is our priority as a team and a company to continue to make a positive impact in our community through community partnerships and endeavors. We encourage our team members to spend time giving back to their communities by providing each employee eight hours annually of volunteer time as part of our "total rewards package."