Indy Wholesale Direct began as a one-man side hustle, as owner Ben Wheat fixed up one car at a time as a college student.
It was 2004, the year Facebook was founded, Brittany Spears topped the charts, and the Great Recession was still four years away. Ben Wheat just graduated from Ball State University in Muncie, IN, with two bachelor's degrees — one in history and one in political science. Both his parents are attorneys, so it made sense to everyone when he continued on to law school.
That was the plan, anyway, until Ben's side hustle became his true passion.
"Although no one in my family is in the automotive industry, I went to law school for one year, and the whole time I was doing this on the side," he said. "I'd buy one car, fix it up, sell it, and buy another one. Then I dropped out of law school."
In 2011, Ben, who was born in Indianapolis and grew up in Northeast Indiana, founded Indy Wholesale Direct. Now Indiana's largest indoor car dealer, the independent car dealership blossomed into a successful, growing, 40-employee business with 350 cars in its inventory.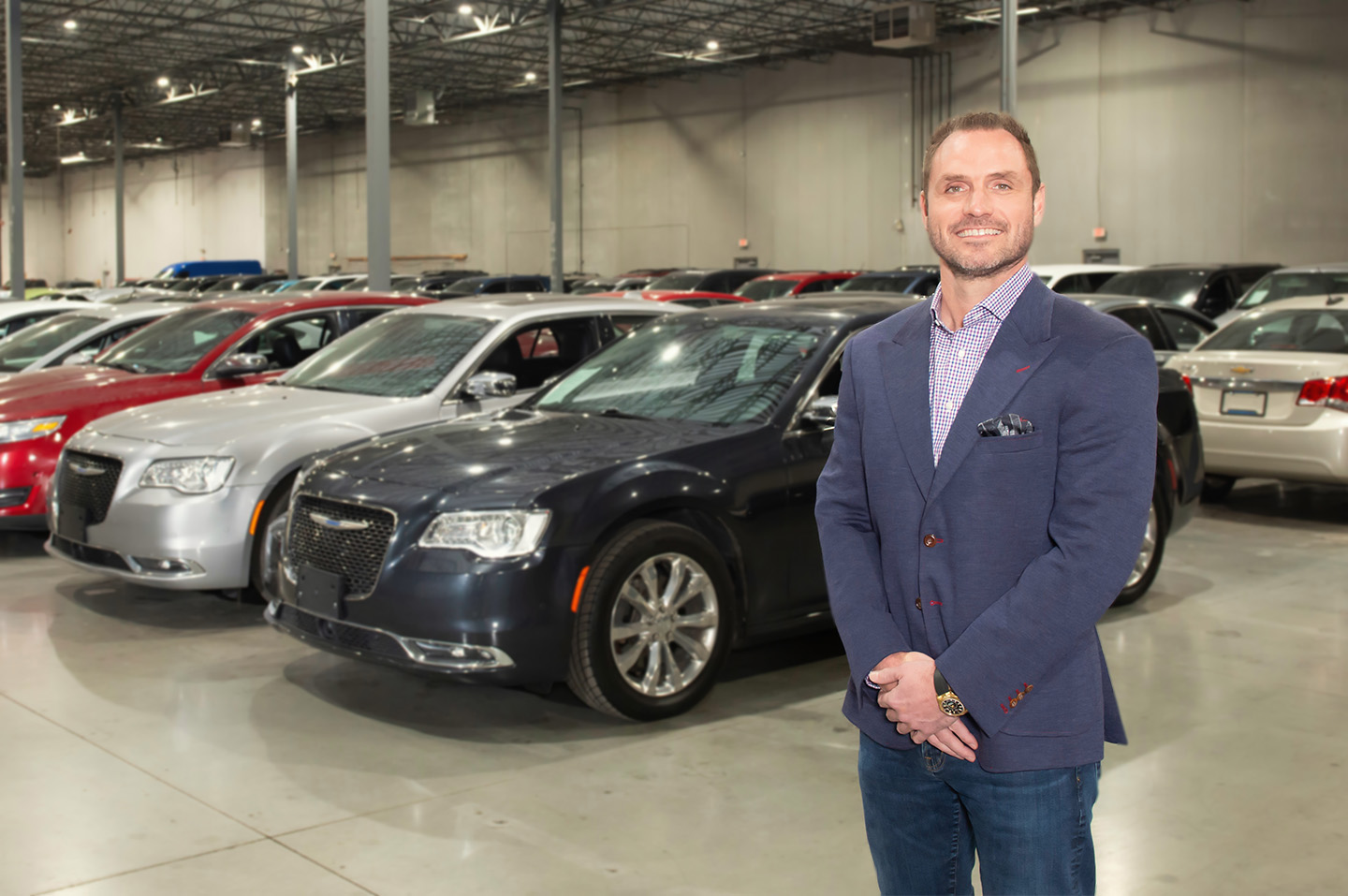 "Regardless of your major in college, you develop responsibilities being on your own and getting acclimated to adulthood," he said. "How many of us use what we learned in college? You learn by doing."
Basic Floorplanning: High Price, Low Service
When he took a leap and founded Indy Wholesale Direct 2011, Ben selected one of the largest floorplan providers in the United States to provide the company's floorplan financing line of credit. A sort of high-priced Walmart in the world of floorplan financing.
Although other floorplan providers contacted Ben over the years, trying to lure away his business, it was easier to stay with the same floorplan provider as his company grew, adding more cars, more employees, and more clients. Even though things weren't perfect, it made sense at the time.
"You kind of get comfortable," Ben said. "But as we grew, we started looking at where our money was going — all of our expenditures. It turns out we were spending a tremendous amount of money on floorplanning."
Stepping Up to First Business Bank's Floorplan Financing
As Ben and his Indy Wholesale Direct management team began investigating other floorplanning options, they remembered a recent contact with First Business Bank's John Goodyear, Vice President – Sales Manager – Floorplan Financing.
"I had known John and I called him right about when he and Jeff came on board with First Business Bank," Ben said. "We were their first client."
First Business Bank's Floorplan Financing team is led by Jeff Widholm, Managing Director, and John Goodyear. The two automotive industry veterans teamed up to provide responsive, reliable floorplanning to elite independent car dealerships. The team's approach, taking on fewer clients to serve each with unprecedented responsiveness, matches First Business Bank's client approach.
"We are a boutique floorplan finance operation serving the floorplan needs of some the largest independent dealerships in the country," said Jeff Widholm, Managing Director – Floorplan Financing. "With a customer satisfaction index of 100%, our dealers have told us they like our service-oriented culture and the ease of doing business. Other providers serve the masses and we remain focused on floorplanning some the largest, well-managed independent stores in the United States, like Indy Wholesale Direct."
Ben said that while Indy Wholesale Direct initially looked for a new floorplan provider because of costs, they also sought high-quality service and a hassle-free transition process to a new floorplan provider."
"We wanted a more personal experience," he said. "Your floorplan is the lifeline of your dealership, and we were seeking a personalized, boutique experience. We felt, after having success, that we were ready to graduate from a floorplan financing company to a bank."
Although Ben was familiar with John and he was happy with the floorplanning capacity, costs, and service philosophy, he had never heard of First Business Bank and wasn't sure what to expect. Fortunately, the partnership with First Business Bank has proved a perfect fit for Indy Wholesale Direct.
"They are almost like a quasi-consultant," Ben said. "I can bounce ideas off them. They have really helped my business. For instance, Jeff put me in contact with a reinsurance company that has worked out – we've been really successful with it. As a whole, I'd say First Business Bank's Floorplan Financing team cares about our business, not just their profits."
With extensive automotive industry experience in different capacities, both John Goodyear and Jeff Widholm bring value-added perspective and connections to each of First Business Bank's Floorplan Financing clients.
"Indy Wholesale Direct grew more in the past 18 months than we did our previous eight years in business," Ben said. "A large part of that is as a result of their guidance. Obviously, the credit facility they gave us was tremendous, and I attribute a large part of the growth and success to our partnership. We're extremely happy."
Growing Their Dealership
As Indy Wholesale Direct looks toward the future, Ben believes their partnership with First Business Bank is going to help them achieve their goals.
"We're trying to continue to grow our revenue and expand," he said. "I see no need to go anywhere else in the future. First Business Bank's Floorplan Financing team has exceeded my expectations far and beyond and set the bar very high."
Facing multiple uncertain economic variables, including consumer demand in a potential recession, Ben said it's understandable other independent car dealers might be nervous changing to a floorplanning partner they've never heard of before. Especially because they often think it'll be too difficult and time-consuming to switch.
"I'm sure some dealers are nervous because they haven't heard of First Business Bank or because they're not a huge company," Ben said. "But I was one of those people, and I would tell you from my experience that these guys do really know what they're doing. They made it really easy to switch. They have your best interests in mind and care about your overall success and the business. I don't often give testimonials but I'm happy to give my referrals to them because everything they've ever told me is 100% true."