Our employees all come to First Business Bank with diverse careers, experiences, and backgrounds. Some have a few career changes under their belts, and others have been in banking for their entire adult lives. Each person has a unique perspective that's valuable to us — sometimes it's the industry outsider with a different viewpoint that allows your organization to reach a goal you'd previously found unattainable.
That's why we like to celebrate the stories of how our employees made their way to banking and how they progress in their roles at First Business Bank. Behind those individual stories are the experiences that contribute to how they approach client service and uncover the true, personal meaning and satisfaction they find in their work here.
Hard Work & Stellar Service
For instance, Jessica Colby, Vice President – Wealth Advisor, started with us in early 2021 in our Kansas City Metro office. A former collegiate athlete, Jessica is no stranger to hard work, humility, contributing to a high-performing team, and celebrating team efforts. When she graduated from college, though, she says a career in banking wasn't really on her radar.
"I wasn't looking for a banking career when I graduated college," Jessica said. "However, a frequent customer of a coffee shop I worked at in Springfield, Missouri, asked me what I wanted to do. He was vague about his role, but told me he worked for a local bank, and he encouraged me to apply for an entry-level position. I didn't realize until later that he was CEO of the bank. Because I provided great client service at the coffee shop, he opened the door for me to pursue an opportunity in banking that started me on this journey."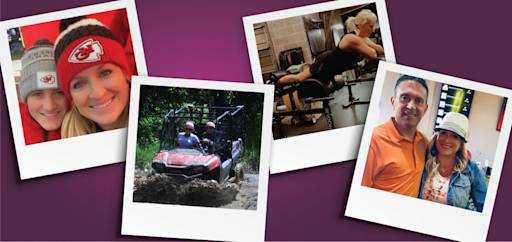 Building a Career in Banking
What Jessica ended up finding were a multitude of roles within banking that fit her talents well, although at the beginning she says she would not have dreamed one day reaching her current position.
"My career path over the years has been exploring different areas of banking to uncover what I do well, what drives me to want to come to work every day, and what position sets me up for the next opportunity," she said.
While she was working in small business lending, she was approached to transition to Private Wealth – working with individuals on their personal financial needs.
"At my previous employer, I received a knock on my door and was asked to join the Private Wealth team, but if you'd asked me six or seven years ago if I saw myself working as a relationship manager in Private Wealth, I would have said, 'No way.' I'm not from Kansas City, so to tap into closely held relationships seemed like a steep mountain to climb. What I learned since that time is that I have a huge passion for helping people. Earning trust is the hardest part of the job, and then figuring out how to set yourself apart from the competition."
While the challenge seemed daunting at first, Jessica used her skills, experience, connections, and drive to achieve success.
"I earned the opportunity to do the work I do today. I built a reputation for high performance, fostering strong relationships with internal business partners and referring my business partners to help them succeed. As a former college athlete, playing team sports most of my life, nothing feels better than celebrating team success."
Private Wealth at First Business Bank
Making the leap to First Business Bank, Jessica says she saw an exciting challenge to build business and the bank's reputation within Kansas City, an area that embraces innovation and entrepreneurs.
"I was excited to join an entrepreneurial-minded bank focused on growth in the Kansas City market," she said. "The idea of being challenged to build a Private Wealth practice was an amazing opportunity. I was also impressed with how tenured my colleagues are in their fields of expertise. The reputation and history of the bank is a great story to tell. Being a small-but-mighty team in a much over-banked market gives us a lot of upside to go win business from other institutions."
As Vice President – Wealth Manager, Jessica takes her responsibilities and the trust clients have in her very seriously.
"My role as a Private Wealth Advisor is to get to know my clients better than anyone else, both financially and their life goals," Jessica said. "I achieve this by listening to understand their goals and concerns, then navigating and coordinating resources to recommend solutions on how to achieve them. What I find most rewarding about my job is having a direct impact on my clients' financial successes and recognizing when I have earned their full trust as an advisor."
Once she joined First Business Bank's Private Wealth team, Jessica said she values the relationships she's building with her colleagues. She also values that the company encourages new ideas — having a voice to make an impact is very evident and important to her.
"The relationships I have built with my colleagues, who possess winning attitudes and mindsets, is very important to me, as is the visibility and engagement of Senior Leadership," Jessica said. "Employees are empowered to advocate for their clients, share new ideas, and influence change management."