Straight out of college, with an entire career ahead, sometimes choosing a first professional job opportunity seems overwhelming. An ever-growing list of questions piles up, like:
Will this position be a good fit for me?
Will there be opportunities to grow and to learn?
Will people teach me?
Are the benefits decent and how do I even find out?
Where is this company headed?
Will I have time to pursue my personal passions?
Even if it's a robust economy as they graduate, many new graduates run the scenarios and lose sleep over the decisions. It's understandable and it can feel like taking the biggest leap since choosing a college.
At First Business Bank, we've taken great care to build an intentionally welcoming culture for people of all career stages, but today we're talking about our new college grads. Many of these common questions are best answered by an excellent example — Eric Schremp, Assistant Vice President II – Commercial Banking.
Eric's career at First Business Bank is a testimonial about how new college grads explore roles and build their careers here while continuing to develop their skills and give back to their communities.
Joining As Credit Analyst Intern
Eric Schremp, Assistant Vice President II – Commercial Banking, joined First Business Bank's Madison, Wis., office in June 2013 as a summer Credit Analyst intern while he was a student-athlete playing golf at the University of Wisconsin – Madison.
"I met Emily Bradley at a career fair in the spring of 2013 and, through that discussion, discovered the internship and career opportunities available at First Business Bank," Eric said. "At the time, I was looking for a business internship for the summer and First Business Bank's internship seemed like a great opportunity."
As a collegiate athlete who enjoyed participating in organized volunteering events to benefit the community, Eric said he was attracted by First Business Bank's initiatives to give back.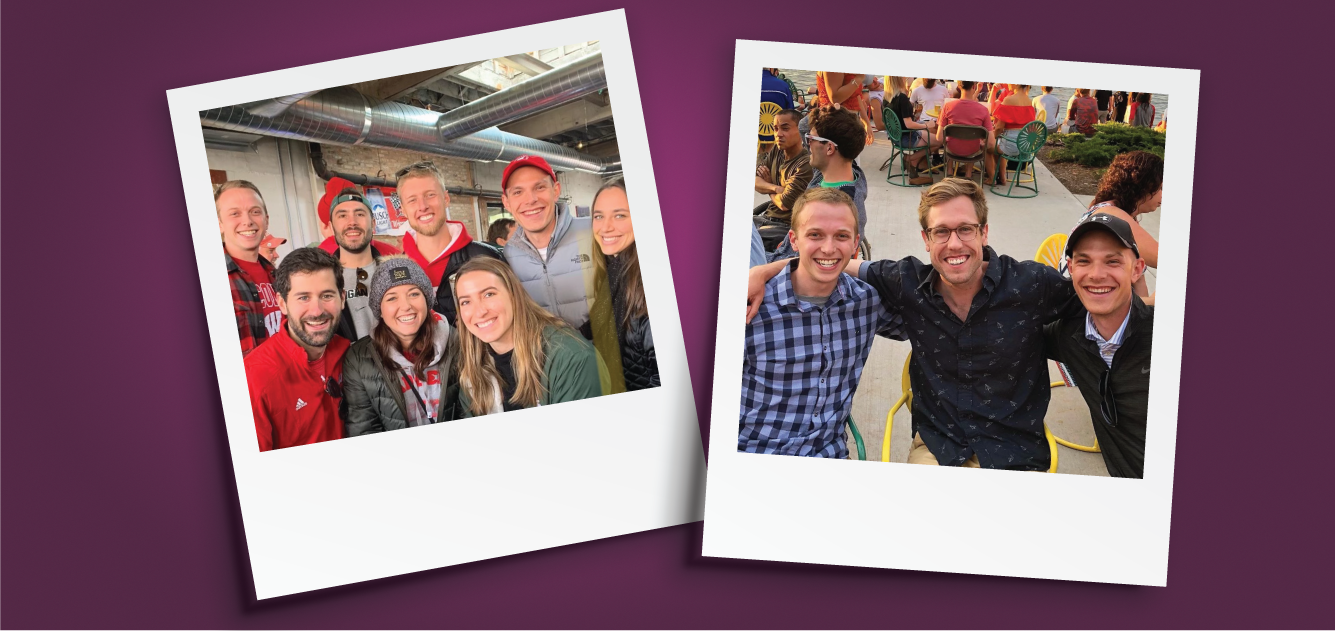 "The community focus, niche model, and career development opportunities are what initially lead me to First Business Bank," Eric said. "All of those attributes are still present in the company today."
As a Credit Analyst intern, Eric learned about credit, evaluating company's financial statements, and generally about working and collaborating in a professional workplace. He says he was also impressed how leaders at First Business Bank encouraged him early on.
"The leaders here are available and approachable," Eric said. "Most impactful for me has been having access to decision-makers and watching and learning from them as they interact with people internally and externally. I appreciate the opportunity to watch them lead a meeting and directly ask them questions afterward. I have picked up a lot of intangible tips and nuances on how to be more effective from them."
Creating the Commercial Banking Development Program
After graduating in 2015, Eric joined First Business Bank full time as a Credit Analyst, a role he held for two years. He then progressed to Commercial Banking Associate and began working directly with business clients.
Right around this time, our Human Resources team saw an opportunity to create a structured, accelerated program for college students to progress from an intern to a valued member of First Business Bank's Commercial Banking relationship team, supported by mentors and ongoing education. Eric's feedback about what became First Business Bank's Commercial Banking Development Program (CBDP) was invaluable to our team and has benefitted many college students since then as they go through the program.
In his quest to learn more, Eric sought out connections internally to get a better idea of how all parts of our bank work, and how they work together. This also became part of the CBDP.
"Once I transitioned to the Commercial Banking team, I realized there were multiple areas of the company that I didn't have as much exposure to during my time as a credit analyst," he said. "So early on, I tried to connect with colleagues in all areas of the company to get a more in depth understanding of how the bank functions and operates."
Building on a Banking Career
With several years of working with businesses and organizations to help them financially, Eric transitioned to Assistant Vice President – Real Estate Banking, where he had an opportunity to round out his banking experience by working with real estate development deals.
In 2021, Eric was promoted to Assistant Vice President II – Commercial Banking, moving back to a Commercial Banking role. He feels it's the right fit for his skills and interests.
"I love meeting with the families and owners of businesses, learning their stories about building their companies, and being able to be a part of helping them be successful," Eric said. "I really enjoy seeing what goes on behind the scenes in businesses — it's so much more than just the numbers on a spreadsheet."
Now several years past taking that post-college leap to First Business Bank, Eric reflects on some advice for new college grads.
"One piece of advice I would have is don't be afraid to ask questions," he said. "It's important to understand not only your day-to-day job, but how what you are doing drives the overall performance and operations of the bank. If you can have a genuine interest in the company and ask good questions, this will help you in your career path moving forward."
Work-Life Balance & Community Activity
Eric's commitment to community organizations is very important to him, and one of the factors that drew him to First Business Bank in the first place. Eric volunteers with the American Cancer Society as part of the Board of Ambassadors for Coaches vs. Cancer Wisconsin. In the past, he was involved with United Way of Dane County and the W Club through UW-Madison.
Outside of work, Eric keeps busy playing golf and spending time at his family's cabin in Minocqua, Wisconsin.
"First Business Bank has been a great place for me to grow in my career," Eric said. "From starting as a credit analyst intern to now being a Commercial Banker, the company has provided me with numerous opportunities to continue to advance and take on new responsibilities."